OU17W700588 <!- 71F EF1 32 23J 3 1 -->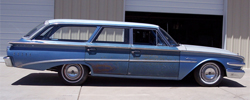 Dataplate specifications
Villager, 4-door 6-pass wagon, Cadet Blue Metallic with Hawaiian Blue
Blue vinyl/Ivy cloth interior

292 Ranger V8, Mile-o-matic 2-speed transmission, 3.56:1 axle ratio
Edsel number 700588 manufactured in Louisville, KY on September 23, 1959
---
Information as of: August 2014

Owner: Ronald C. Austin
Location: Kingman, Arizona
Owned since: March 2008 Mileage: 153,456 (as of May 2008)
Condition: In restoration
Originality: Stock, with some updated parts Accessories included: Lever-Temp Heater/Defroster, Column Automatic Transmission, Standard Radio, Power Brakes, Whitewall Tires, Wheel Covers, Seat Belts, Two-tone Paint, Oil Filter, Non-Glare Rear-view Mirror, Courtesy Lights, Back-up Lights Notes:
Clear title. The car runs, drives and stops very well and is all there.
Restoration started with:
*Frame sand blasted and painted with Summit Racing chassis black.
*Engine completely rebuilt 292 CI – new starter, generator, voltage regulator, water pump, fuel pump, belts, air cleaner, spark plugs, points, condenser, and rebuilt 2 barrel carburetor. Radiator and heater core flushed, repaired and tested, new hoses and thermostat. New exhaust system and muffler.
*Front suspension rebuilt – new upper and lower ball joints and arm bushings, sway bar bushings, tie rods and tie rod ends, idler arm bushings and rubber bumpers. Rebuilt power steering and cylinder, new P.S. hoses and filter.
*Rear suspension – new spring shackles and bushings, shocks and bushings, new rear end axle and pinion seals, new pinion bearings and races, new u-joint.
*Brakes rebuilt – new shoes, wheel cylinders, hoses, brake lines, rebuilt master cylinder.
*Gas tank flushed, coated inside, painted outside and new fuel lines.
*Body is rust free, no dents, needs paint and glass. Tires are old, all the trim is with the car, bumpers have been re-chromed, front floor pans have been replaced, "Dynamat" sound and heat insulation is installed on front and back floor pans, new carpet and door panels. Needs seat upholstery and head liner (a roll of seat material is included)
*All the gauges, lights and turn signals work, new ignition switch, headlight switch and high beam switch. Heater works with new heater valve and inlet duct connector, needs defrost hose. New speedo cable and gear, new glove box. Radio does not work.

The car came from Sacramento, CA to Petaluma, CA to Kingman, AZ. When I got the car it had been completely dismantled and I have spent $7,500.00 in parts and 650 hours to make the car drivable.
Additional pictures and info can be seen at RonsHotRods.blogspot.com, postings in May 2008, July 2008, June 2009, October 2013, May 2014 and August 2014.
---
Information as of: August 2004

Owner: Fred Schell
Location: Petaluma, California
Owned since: August 2004 Mileage: unknown
Condition: Not Running but salvageable
Originality: All parts are factory authentic for the car Accessories included: unknown Notes:


<!- P HR P --> <!- A HREF= http://www.vector11.com/edselcom/gallery/e60/e604h700452.jpg Gallery Link /A --> <!- P HR P -->
---
©2014 Edsel.com All Rights Reserved