OU12W700574 <!- 58A N 24 23J 3 3 -->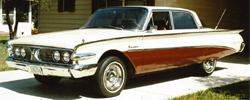 Dataplate specifications
Ranger, 4-door sedan, Sahara Beige
Gold vinyl/Brown cloth interior

292 Ranger V8, Mile-o-matic 2-speed transmission, 3.10:1 axle ratio
Edsel number 700574 manufactured in Louisville, KY on September 23, 1959
---
Information as of: October 2009

Owner: Ed & Leona Fuller
Location: Ohio
Owned since: unknown Mileage: unknown
Condition: Drives very well
Originality: Customized Accessories included: Radio, Dual Rear Deck Antennas, Dual Exhaust, Exhaust Deflectors Notes: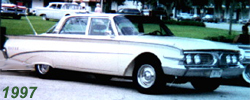 This Edsel's body now surrounds the frame, 4.6 litre engine, 4-wheel ABS disk brakes, steering wheel and interior trim of a 1992 Lincoln Town Car. The mid-section fuel tank allows for a deep and spacious trunk area. The dash panel is also custom-made, with all-electronic LEDs fitted into the original 1960 speedometer frame. Air Conditioning, power everything, all doors opening without handles, with remote trunk and hood opening, too. Full leather seats. Titled as an Edsel.

<!- A HREF= http: www.vector11.com/edselcom/gallery/e58/e584h703961.jpg Gallery Link /A -->
---
©2009 Edsel.com All Rights Reserved