OUW11700551 <!- 64A HM1 24 23J 3 3 -->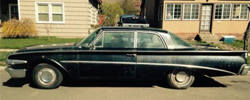 Dataplate specifications
Ranger, 2-door sedan, Alaskan Gold Metallic with Polar White
Gold vinyl/Brown cloth interior

292 Ranger V8, Mile-o-matic 2-speed transmission, 3.10:1 axle ratio
Edsel number 700551 manufactured in Louisville, KY on September 23, 1959
---
Information as of: April 2015

Owner: unknown (online auction car)
Location: Lakeview, Oregon
Owned since: unknown Mileage: 12,354
Condition: Runs and drives
Originality: New paint scheme, Ford front bumper Accessories included: Radio, Wheel Covers, Tinted Glass Notes:
A "true barn find" and I have the pictures and documentation to prove it. This car's history is documented back to 1962 when it was purchased in Fullerton, California for the sum of $950 plus the trade in of a 1956 Ford valued at $500. Later to be stored in a barn in Red Bluff, California in 1973. It was removed from its time capsule in 2014 and has been stored to this date.
In March of 2015 it was carefully brought back to life in Lakeview, Oregon. This rare classic still has biased ply tires on the rear of the car that more than likely date from the 60's and still hold air. The tires are good enough to drive it on and off the transport. I am auctioning this very rare classic in "beautiful as found condition" dust and all (with the e xception of it running and driving for transport) so that it can be your barn find.

Has 12354 miles on the odometer(?), drives with fresh oil/filter/ATF. Its 292 V8 engine runs with good oil pressure and has no unusual noises. Starter, generator, radiator, transmission all function perfectly. Exhaust system is still intact and functional down to the original muffler. Brakes have high pedal and work properly (amazing for a car that hadn't been driven in 42 years). Emergency brake works properly, as do all gauges, headlights (high and low beams), tail lights, turn signals - all electrical systems appears to work properly.

The body is very straight with no major rust – just one area of minor surface rust where paint chipped off (no blisters in paint) All trim is intact and in good shape, and bumpers are straight. Missing a little right rear corner piece but have located a source. It is missing the Edsel emblems (script/lettering), and some lenses need to be replaced. All glass is excellent (no wiper burn), windows roll up and down smoothly and are tight. Doors are solid, align nicely and hinges are in great shape. The underside is solid and free of major rust and doesn't even appear to have surface rust. Gas tank has rust hole by the drain plug (running on auxiliary 1-gallon tank for transport). Floor and trunk pans are excellent and are free of major rust. Steering is tight. Original wheels and hubcaps. Interior is all there, and original headliner in good condition. The original seats function the way they should and are in pretty good condition for their age. No carpet - it was removed to check condition of the inner floor boards, which are in great shape. The door panels are in good condition, and the steering wheel and dash are in great shape. Original radio. Brake and gas pedals show very little wear.

Original 1960 Edsel owner's manual, and documentation back to 1962.
---
Information as of: April 1964

Owner: Charles and Grace Jackson
Location: Anaheim, California
Owned since: 1959 Mileage: unknown
Condition: unknown
Originality: unknown Accessories included: unknown Notes:
Data from the California State Certificate of Ownership, dated 4/17/64.
The issued license tag number on the form, "GGN421", is on the plate that's still mounted to the car in 2015.
---
©2015 Edsel.com All Rights Reserved