OU14Y700489 <!- 57A F 22 22J 4 8 -->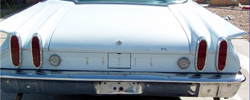 Dataplate specifications
Ranger, 4-door hardtop, Hawaiian Blue
Blue vinyl/Black cloth interior

352 Express V8, Dual-Power 3-speed transmission, 2.91:1 axle ratio
Edsel number 700489 manufactured in Louisville, KY on September 22, 1959
---
Information as of: March 2012

Owner: unknown (online auction car)
Location: Albuquerque, New Mexico
Owned since: unknown Mileage: 63,716
Condition: Solid
Originality: Panel-mounted backup lights added Accessories included: Power Steering, Power Brakes, Wheel Covers, Tinted Glass, Dual Exhaust Notes:
I have no reason to doubt the odometer reading, but I can't guarantee it either.
It was bought to restore because of its rarity. Due to job constraints I just don't have time.
There isn't much history on this car. All I know for sure is it has a Wisconsin title that is CLEAN.
Floors and rocker panels are solid (Southwest climate is very kind to these kind of cars).
Quarter panels look good. The trunk looks good and has had some repairs in the past.
---
Information as of: July 2004

Owner: Anonymous
Location: Maryland
Owned since: unknown Mileage: unknown
Condition: #3 Drives well
Originality: unknown Accessories included: Power Steering, Power Brakes Notes:


<!- P HR P -->
---
©2012 Edsel.com All Rights Reserved