OU14W700452 <!- 57A ZM1 20 24J 3 3 -->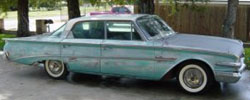 Dataplate specifications
Ranger, 4-door hardtop, Cloud Silver Metallic with Polar White
Silver vinyl/Black cloth interior

292 Ranger V8, Mile-o-matic 2-speed transmission, 3.10:1 axle ratio
Edsel number 700452 manufactured in Louisville, KY on September 22, 1959
---
Information as of: March 2004

Owner: Brian Lawler
Location: Cherry Valley, California
Owned since: March 21, 2004 Mileage: 122,000+
Condition: (See notes)
Originality: Original, with one repaint of greenish-blue Accessories included: Power steering, Lever-Temp heater/defroster, radio, factory rear seat speaker, dual rear antennas, clock, parking brake warning light, padded safety group, hooded spotlight w/ mirror, spinner wheel covers, fender skirts (originally), www tires.
Options it will get: rocker mouldings, exhaust deflectors, back-up lights, and dual exhaust. Notes:
Needs full restoration but useable as is. Runs and drives but is getting a rebuilt 292 engine as of March 23, 2004

The repaint has almost washed off back to the silver. Slight rust in the right rear dog leg below the rear door and along the back bottom edge of the wheel opening. Trunk floor has rust but appears to be salvageable. Floor of car is almost perfect and still has the original silver paint covering most of the area. Front fenders are rust free.

This car is receiving a '57 Ford 292 until I rebuild the original motor. The car as planned will be used to attend club functions while I finish restoring '60 Edsel #703193. The restoration of this car is a few years off but will once again be Cloud Silver with a Polar White roof.

Link to my other Edsels -
W8RF701597
OU12W703173
---
Information as of: January 2004

Owner: unknown (online auction car)
Location: Litchfield Park, Arizona
Owned since: unknown Mileage: 122,000
Condition: Drives, but needs restoration
Originality: unknown Accessories included: Power Steering, Dual Rear Deck Antennas, Wheel Covers with Spinner, Factory Spotlight, Fender Skirts Notes:
The car currently runs and drives and most everything is functional. It will need total restoration of all components if you are looking for a show car. The body is in very good overall condition, but does have a couple of very small rust areas of the rocker panel area and the trunk pan has some rusted out holes in the low spots. The floor pan is excellent with most of the original paint still on it.

The 292 engine is tired but still runs. It has a tendency to smoke a little when first started. The transmission shifts excellently. The interior is original and the cloth inserts in the seats have deteriorated. Most of the chrome is in very good original condition, and the pot metal parts have a very minimal amount of pitting. It is missing the side letters on both rear quarter panels and the front fender Ranger scripts, all of which were removed when the car was painted in the mid-1970's.

The original color was Cloud Silver with White top. It was painted Turquiose Metallic over the silver, and the top is still the original paint. This was originally a Colorado car that was licensed in Arizona up until two years ago. A very straight car that would make a relatively easy restoration candidate.
---
---
©2004 Edsel.com All Rights Reserved