OU16W700423 <!- 71F J 35 22J 3 1 -->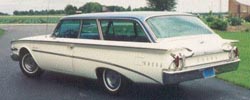 Dataplate specifications
Villager, 2-door wagon*, Polar White with Cadet Blue Metallic
Blue vinyl, Ivy cloth interior

292 Ranger V8, 2-speed Mile-O-Matic automatic transmission, 3.10:1 axle ratio
Edsel number 700423 manufactured in Louisville, KY on September 22, 1959
---
Information as of: July 2002

Owner: Dave Hooten
Location: Racine, Wisconsin
Owned since: unknown Mileage: unknown
Condition: Excellent
Originality: Customized Accessories included: unknown Notes:
*Note: This is a custom-made 2-door Villager!
(It was originally a Regal Red 6-passenger Villager with Red vinyl/Ivy cloth interior).
New serial number reads OU16W700423 Body code 59A, Color JM1, Trim 35.
I have shown it at several IEC meets.
---
Information as of: 1968

Owner: unknown
Location: Danville, Illinois
Owned since: unknown Mileage: unknown
Condition: unknown
Originality: unknown Accessories included: unknown Notes:
Original VIN OU17W700423: Villager, 4-door 6-pass wagon, Ranger V-8
1968 research by R. Meek
---
©2002 BE All Rights Reserved