OU11V700372 <!- -->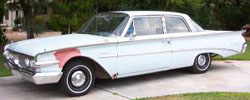 Dataplate specifications
Ranger, 2-door sedan, Hawaiian Blue
Blue vinyl, black cloth interior

223 Econo-Six
Edsel number 700365 manufactured in Louisville, KY
---
Information as of: January 2004

Owner: unknown (online auction car)
Location: Apple Valley, California
Owned since: unknown Mileage: 115,000
Condition: Runs well, needs minor restoration
Originality: unknown Accessories included: Back-up lights, "dog dish" hubcaps Notes:
New tires, water pump, recent tune-up.
Solid, but does have rust on the passenger door, along the chrome side trim. Both rear corners are rusted through as well as the floor area in the trunk next to both tires. The driver's fender has slight damage.
---
Information as of: 1968

Owner: Herb Kasten
Location: Paramount, California
Owned since: unknown Mileage: unknown
Condition: unknown
Originality: unknown Accessories included: unknown Notes:
1968 research by R. Meek
---
©2004 BE All Rights Reserved