OU17W700295 <!- 71F Z 50 18J 3 1 -->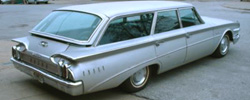 Dataplate specifications
Villager, 4-door 6-pass wagon, Cloud Silver Metallic
Silver/Black vinyl interior

292 Ranger V8, Mile-o-matic 2-speed transmission, 3.56:1 axle ratio
Edsel number 700295 manufactured in Louisville, KY on September 18, 1959
---
Information as of: April 2008

Owner: unknown (online auction car)
Location: Omaha, Nebraska
Owned since: unknown Mileage: 89,900
Condition: Excellent
Originality: unknown Accessories included: Radio, Padded Dash, Air Conditioner, Brake Warning Light, Wheel Covers Notes:
California car. Headliner is perfect, all seats are very nice with no tears. The padded dash has two cracks. All glass is excellent. The radio doesn't work but the car runs and drives very nice.
Rust-free, except for possibly some surface rust.
---
Information as of: 1968

Owner: Jack Kelly
Location: Shawnee, Kansas
Owned since: unknown Mileage: unknown
Condition: unknown
Originality: unknown Accessories included: unknown Notes:
1968 research by R. Meek
---
©2008 Edsel.com All Rights Reserved