0U11V700283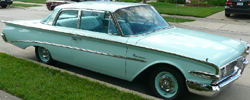 Dataplate specifications
Ranger, 2-door sedan, Sahara Beige
Gold vinyl/Brown cloth interior

223 Econo-Six, 3-speed manual transmission, 3.56:1 axle ratio
Edsel number 700283 manufactured in Louisville, KY on September 18, 1959
---
Information as of: February 2009

Owner: Jeff White
Location: Wyandotte, Michigan
Owned since: October 2004 Mileage: 122,751
Condition: Show car
Originality: Modified with non-Edsel components Accessories included: Lever-Temp Heater/Defroster, Standard Radio, Tinted Glass, Electric Wipers, Oval Side Mirror, Back-up Lights, License Plate Frames Notes:
"Gomer", as I've named him, has been fully restored with color changed to Turquoise "C" with turquoise champagne cloth deluxe interior. Front manual disc brakes were added which necessitated switching to 15 inch rims which are painted the body color and wear the small Edsel "poverty" caps and new black wall bias ply tires from Coker. Besides the disc brake conversion, the only non-factory equipment change was the addition of an original Ford overdrive unit to the manual transmission.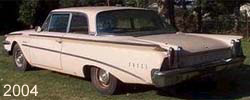 I bought the car from Steve Schultz of Arizona in 2004. He was going to part it out and send it to the crusher. I had to rescue it! I have way more invested than it's worth but I love it.

---
Information as of: December 2001

Owner: C. A. Brennan <!- cabrennan@bmi.net -->
Location: Walla Walla, Washington
Owned since: 1960 Mileage: 122,750
Condition: Not Running but salvageable
Originality: All parts are factory authentic for the car Accessories included: unknown Notes:
Original owner. All original numbers matching car. It has been stored since the early 1970s, and is stock from it's AM radio to it's factory hub caps. Original pink California title and original black plates! West Coast car all it's life.

One medium-sized easily repairable dent in driver side front fender. Not driven since storage began 31 years ago. Car is 95% rust free. Frame is very solid because roads are NOT salted here in Winter.

<!- P HR P --> <!- A HREF= http: www.vector11.com/edselcom/gallery/e60/e60700283.jpg Gallery Link /A --> <!- P HR P -->
---
©2009 Edsel.com All Rights Reserved