OU11V700205 <!- 64A W 23 17J 1 1 -->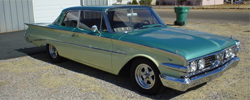 Dataplate specifications
Ranger, 2-door sedan, Seafoam Green
Green vinyl/Brown cloth interior

223 Econo-Six, 3-speed manual transmission, 3.56:1 axle ratio
Edsel number 700205 manufactured in Louisville, KY on September 17, 1959
---
Information as of: January 2012

Owner: unknown (online auction car)
Location: Sierra Vista, Arizona
Owned since: unknown Mileage: 78,000
Condition: Excellent
Originality: Customized/Modified Accessories included: Radio, Rear Deck Antenna, Tinted Glass, Dual Exhaust, Power Steering, Exhaust Deflectors, Oval Side Mirrors, Back-up Lights, Aftermarket Air Conditioning Notes:
This car has been modified by the owner. The upgrades to this vehicle were not made for speed, but comfort on long road cruises. The car is powered by a Ford 429 V-8 engine with a Ford C-6 automatic transmission. The power steering has been upgraded using a 605 steering box. A Flaming River tilt steering column and Le Corra steering wheel has been added for comfort. It has a Ford 9 inch differential. A (cold) under the dash air conditioning system has been added and the windows have been tinted for a more comfortable air conditioned ride in the hot summer sun. Cruise control has been added as well. The front end has been upgraded to include power disk brakes. There are four new custom chrome wheels with four new tires. The engine cooling has been upgraded using a 1970 Mercury 4-core cross flow radiator with two additional electric fans (manually controlled) if needed. (It does not overheat even on the hottest Arizona days). Dual side mirrors, seat belts and back-up lights have been maintained for safety. All chrome and stainless has recently been done. The car has new custom paint; new custom interior upholstery/carpet/door panels and the trunk has been finished as well. The car looks and drives like new. All of the components and options are in working order. There is absolutely no rust anywhere in this car. These modifications have been done within the last two years. This car is garage kept and maintained by the owner's full-time mechanic.
---
Information as of: June 2007

Owner: unknown (online auction car)
Location: Lebanon, Tennessee
Owned since: unknown Mileage: 69,274
Condition: Excellent
Originality: New upholstery Accessories included: Radio, Rear Deck Antenna, Wheel Covers with Spinner Notes: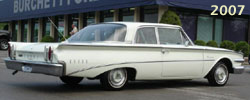 Excellent driver. The paint is at least 15 years old. Factory undercoated, so the floors, rockers and quarter panels are very solid. THe trunk floor has had some glass work done but no rust-through has been found from underneath. The chrome and brightwork is all original and in good condition.
The interior has been replaced at some time and the seats have a tan tweed cloth insert, in great condition. The engine purrs quietly and the 3-speed column shifted transmission works perfectly.
The car is in great overall condition, down to the factory optioned spinner hubcaps. The car came from Indiana 10 or 12 years ago, and has been in dry storage here in TN ever since.
The miles at 69,000 are believed to be correct, but no documentation has been found.

<!- A HREF= http: www.edsel.com/gallery/e584h703961.jpg Gallery Link /A -->
---
©2012 Edsel.com All Rights Reserved