OU12W700187 <!- -->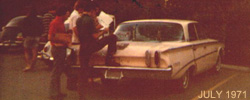 Dataplate specifications
Ranger, 4-door sedan, Sahara Beige


292 Ranger V8, Mile-o-matic transmission
Edsel number 700187 manufactured in Louisville, KY
---
Information as of: 1971

Owner: Larry Blodget
Location: Woodland Hills, California
Owned since: 1970 Mileage: unknown
Condition: Parted out
Originality: unknown Accessories included: Power Steering, Power Brakes Notes:
I purchased it on Jan. 5, 1970 with a blown engine for $85. It was sold (note the sign in the back window) in July, 1971, to a body shop in Santa Monica, Calif. called Aristro-Craft Auto Body, owned by one John Rile. Rile purchased a repainted '60 Sunliner that was originally Orchid Gray Metallic and cut both cars up into an Edsel/Sunliner. He left the Ford interior, knobs, etc. and painted it black in and out with a white top.

While car #187 is gone today, it lives on as the first reproduction '60 Edsel convertible produced from a Sunliner.
---
©2002 BE All Rights Reserved