OU12W700144 <!- 58B JM1 15 16J 3 3 -->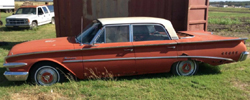 Dataplate specifications
Ranger, 4-door sedan (deluxe interior), Regal Red with Polar White
Red vinyl/Gray cloth interior

292 Ranger V8, Mile-o-matic 2-speed transmission, 3.10:1 axle ratio
Edsel number 700144 manufactured in Louisville, KY on September 16, 1959
---
Information as of: December 2016

Owner: unknown (online classified ad)
Location: Mexia, Texas
Owned since: unknown Mileage: unknown
Condition: Not running but salvageable
Originality: Repainted in original colors at some point Accessories included: Radio, Power Brakes, Whitewall Tires, Wheel Covers with Spinner, Two-tone Paint, Hooded Side Mirror, Back-up Lights Notes:
I bought this car at an auction and no longer have the means to transport the car to North Carolina, so I am selling this car locally in Texas.
This is a project car or could be used as a donor car for another project. It does have some rust holes, but has many good parts.
There is no title for this car, only a receipt and bill of sale.
---
Information as of: August 2015

Owner: Insurance Auto Auctions
Location: Mississippi
Owned since: unknown Mileage: 81,388
Condition: Not running but salvageable
Originality: New upholstery, repainted in original colors Accessories included: Radio, Power Brakes, Whitewall Tires, Wheel Covers with Spinner, Two-tone Paint, Hooded Side Mirror, Back-up Lights Notes:


Missing rear windshield and door panels.
To be auctioned on September 2, 2015

<!- A HREF= http: www.edsel.com/gallery/e584h703961.jpg Gallery Link /A -->
---
©2016 Edsel.com All Rights Reserved