OU14W700135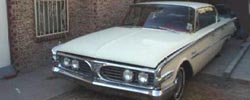 Dataplate specifications
Ranger, 4-door hardtop, Polar White
Red vinyl/Black cloth standard-style interior

292 Ranger V8, Mile-o-matic 2-speed transmission, 3.10:1 axle ratio
Edsel number 700135 manufactured in Louisville, KY on September 16, 1959
---
Information as of: January 2005

Owner: unknown (online auction car)
Location: El Paso, Texas
Owned since: unknown Mileage: 50,686
Condition: Runs well
Originality: unknown Accessories included: Radio, Power Steering, Wheel Covers Notes:
Original owner was a little old lady from Texarkana, Texas.
Body is very solid overall except for the driver's side lower front fender and the trunk floor. Front windshield and backglass are in very good shape but needs two window glasses which are flat glass and easy to replace. No rust on the inside floor pans. The worst thing about the car is that it needs a new gas tank. Armrest and minor electrical work is also needed.
---
©2005 BE All Rights Reserved