OU11W700092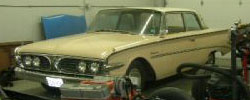 Dataplate specifications
Ranger, 2-door sedan, Sahara Beige with Polar White
Gold vinyl/Brown cloth interior

292 Ranger V8, Mile-o-matic 2-speed transmission, 3.89:1 Equa-lock axle
Edsel number 700092 manufactured in Louisville, KY on September 15, 1959
---
Information as of: March 2006

Owner: Mark Nuzum
Location: West Richland, Washington
Owned since: March 2006 Mileage: unknown
Condition: Drives well, needs minor restoration
Originality: Stock, with some updated parts Accessories included:
---
Information as of: March 2006

Owner: unknown (online auction car)
Location: Kennewick, Washington
Owned since: unknown Mileage: 108,500
Condition: Drives very well, needs minor cosmetics
Originality: Stock, with dual exhaust added Accessories included: Radio, Wheel Covers, Dual Exhaust Notes:
Everything on this car works. The original owner bought it from the local dealer and drove it for years as a family car, parking it inside the garage at night. When he quit driving it, he would drive the car once a month, then put it back in the garage where it sat until it was bought by the current owner, who installed the dual exhaust and only drove it to car shows. It sits inside a climate controlled garage and is only driven in good weather.

The car is in excellent condition for a non-reconditioned car. The only marks in the paint are one chip on the trunk and a spot where the original owner touched-up the left fender top.
---
©2006 Edsel.com All Rights Reserved