OU18W700028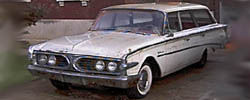 Dataplate specifications
Villager, 4-door 9-pass wagon, Polar White
Red/White vinyl interior

292 Ranger V8, Mile-o-matic 2-speed transmission,
Edsel number 700028 manufactured in Louisville, KY in August 1959
---
Information as of: September 2001

Owner: Clinton Cox
Location: St. Louis, Missouri
Owned since: unknown Mileage: unknown
Condition: Not running but restorable
Originality: unknown Accessories included: Factory Radio, Back-up Lights, Padded Sun Visors, Wheel Covers. Notes:
Built on the first regular day of production, this could quite possibly be the first station wagon built for the 1960 model year. This car is 98% complete. The engine is smoke-free and ran smoothly three years ago when last started. Body is straight with rust in right quarter panel but have two NOS replacement panels.
---
©2001 BE All Rights Reserved