OU15Y700008 <!- 76B J 55 07H 4 6 -->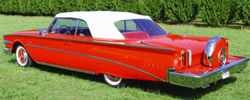 Dataplate specifications
Ranger, 2-door convertible, Regal Red
Red/Silver vinyl interior

352 Express V8, Dual-Power 3-speed transmission, 2.91:1 axle ratio
Edsel number 700008 manufactured in Louisville, KY on August 7, 1959
---
Information as of: February 2009

Owner: Howard Harris
Location: Griffin, Georgia
Owned since: 1989 Mileage: unknown
Condition: Restored Show Car
Originality: unknown Accessories included: Power Steering, Power Windows, Power Brakes, Radio, Dual Exhaust, Exhaust Deflectors, Spotlight Mirrors, Rear Deck Antennae, Wheel Covers with Spinner, Rocker Panel Moldings, Windshield Washer, Continental Kit Notes: Body-off restoration with mostly NOS factory parts. Winner of many Best of Show awards including the 1994 Grand Nationals in Dayton, Ohio, where it bested 175 other Edsels in judging.

2009 Update by Rushffan:
This car is currently for sale on Edselworld for $195,000. It was also featured on The Sunday Morning Show on CBS in July, 2008.
---
Information as of: December 1988

Owner: George Taylor
Location: Georgia
Owned since: unknown Mileage: unknown
Condition: In restoration
Originality: unknown Accessories included: Power Steering, Power Windows, Power Brakes, Radio, Dual Exhaust, Exhaust Deflectors, Spotlight Mirrors, Rear Deck Antennae, Wheel Covers with Spinner, Rocker Panel Moldings, Windshield Washer, Continental Kit Notes: Currently in a frame-off restoration.

<!- A HREF= http: www.vector11.com/edselcom/gallery/e58/e584h703961.jpg Gallery Link /A -->
---
©2009 Edsel.com All Rights Reserved