X8SX706768 <!- 57B AUU AB 9J 4 A -->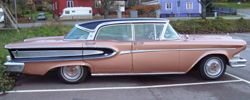 Dataplate specifications
Citation, 4-door hardtop, Jet Black with Copper Metallic*
White vinyl/Copper cloth interior

"E-475" 410cid 345bhp V8, Teletouch automatic transmission, 2.91:1 axle ratio
Edsel number 706768 manufactured in Somerville, MA on September 9, 1957
---
Information as of: October 2008

Owner: Tommy Nyström
Location: Ludvika, Sweden
Owned since: October 10, 2008 Mileage: unknown
Condition: Drives well, needs minor restoration
Originality: Minor customization Accessories included: Spinner wheel covers, tachograph, dual exhaust, clock Notes:
The automatic gearbox changes gears very hard, sometimes it doesn't want to shift to the third gear. It maybe has been like that, more and less, since the breakdown in 2002.
Any ideas aboat it?

(Note, the color scheme is reversed: VIN tag is AUU, car is actually UAA)
---
Information as of: October 2002

Owner: Peter Johansson
Location: Gothenburg, Sweden
Owned: February 2002 - October 2008 Mileage: unknown
Condition: Runs good
Originality: Stock, with some modern parts Accessories included: Spinner wheel covers, tachograph, dual exhaust, clock Notes:
I bought the car from Minnesota in February this year. It ran good before the automatic gearbox breakdown this summer.

*The car is painted copper metallic with black roof and black scallops, but according to the VIN plate (AUU) it should be painted vice versa. The car is repainted once, but I´m sure it has been repainted in the same color combination it was from factory because it is copper metallic inside the doors, trunk and floor. It must have been painted wrong from factory, or wrong vin plate. I met Mr. Phil Skinner this summer in Västerås Sweden, and he saw it.
---
©2008 Edsel.com All Rights Reserved