X8SX706672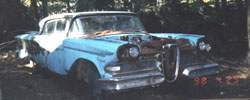 Dataplate specifications
Corsair, 4-door hardtop, Turquoise with Frost White roof and Jet Black scallop
White vinyl, turquoise cloth interior

"E-475" 410cid 345bhp V8, Teletouch automatic transmission, 2.91:1 axle ratio
Edsel number 706672 manufactured in Somerville, MA on September 9, 1957
---
Information as of: April 2001

Owner: Steve Ala
Location: unknown
Owned since: unknown Mileage: 56,000
Condition: Scrapped
Originality: N/A Accessories included: N/A Notes:
I acquired this car in Winsted, CT for $200.00 and had it trailered home. My wife wouldn't let me keep it at our house as it was primarily a parts car and quite rusty. I towed it to my in-laws and covered it with a tarp. My father-in-law unbeknownst to me sold it to a scrapper for drinking money, along with my '65 Studebaker cruiser. Imagine how I felt!!!!
---
©2001 Edsel.com All Rights Reserved