X8SW706414 <!- 63A FEE B 6J 4 A -->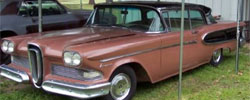 Dataplate specifications
Corsair, 2-door hardtop, Powder Blue with Frost White
Blue vinyl and cloth interior

"E-475" 410cid 345bhp V8, Teletouch automatic transmission, 2.91:1 axle ratio
Edsel number 706414 manufactured in Somerville, MA on September 6, 1957
---
Information as of: March 2003

Owner: Billy <!- Billy Apgar -->
Location: Conroe, Texas
Owned since: February 18, 2003 Mileage: 81,857
Condition: Not Running but salvageable
Originality: New paint, side mirrors/ornament removed and filled Accessories included: Radio, Compass, Electric Clock Notes:
Now painted a Copper Metallic with black scallop and top. This is an Oklahoma car. Cannot guarantee that 81,857 is correct mileage, but I feel like this is the correct mileage. This car has been in a barn for the 30 years and has not been run. I don't know if the motor will turn over or not.

Body has some small dents. The only rust that is all the way thru is in in the trunk where the spair tire sits. Seats are in good condition, and thay have had covers on them from the time the car was new. It has original carpet and has new tires.
---
©2003 BE All Rights Reserved