X8SW704003 <!- Second line -->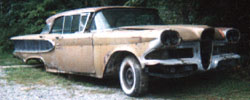 Dataplate specifications
Corsair, 4-door hardtop, Gold Metallic with Frost White and Jet Black
White vinyl/Gold cloth interior

"E-475" 410cid 345bhp V8, Teletouch automatic transmission, 2.91:1 axle ratio
Edsel number 704003 manufactured in Somerville, MA on August 20, 1957
---
Information as of: September 2007

Owner: Allen Rogler
Location: Chepachet, Rhode Island
Owned since: July 2005 Mileage: 56,987
Condition: Bearly running/does not drive
Originality: All parts are factory authentic Accessories included: Dial-Temp Heater/Defroster, Teletouch Automatic Transmission, Power Steering, Power Brakes, Wheel Covers, Tinted Glass, Tri-tone Paint, Compass, Electric Clock, Hooded Side Mirror, Back-up Lights, Glove Box Light Notes:
I purchased this car, which is solid with a running engine, in July 2005. It will be used for parts. The VIN tag is still in place. After noting the vehicle's number, I realized that I also have the 704004 car presently!
---
Information as of: March 2002

Owner: D. Wenger
Location: Texas
Owned since: unknown Mileage: 66,000
Condition: Excellent
Originality: New interior, Add-on A/C Accessories included: Radio, Power Steering, Power Brakes, Whitewall Tires, Wheel Covers with Spinner, Padded Dash, Fender Skirts Notes:
New interior including padded dash. Add-on air conditioner.

(WARNING: This owner's entry was from a classified ad in the IEC "Edseletter", and in the ad, the car was described as a Citation 2-door hardtop, Turquoise and Frost White, with a white vinyl/Turquoise cloth interior. The VIN posted in the ad is suspect.)
---
©2007 Edsel.com All Rights Reserved