X8SX703317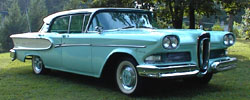 Dataplate specifications
Corsair, 4-door hardtop, Powder Blue with Frost White
Blue vinyl and cloth interior

"E-475" 410cid 345bhp V8, Teletouch automatic transmission, 2.91:1 axle ratio
Edsel number 703317 manufactured in Somerville, MA on August 15, 1957
---
Information as of: October 2003

Owner: Robert (Bob) Henrich
Location: Youngsville, North Carolina
Owned since: August 1999 Mileage: 30,006 (May 2000)
Condition: Drives well
Originality: Stock, with a few updated parts Accessories included: Power Steering, Power Brakes, Wheel Covers with Spinner, Windshield Washers, Electric Wipers, Dial-temp Heater/Defroster, Teletouch, T&C Radio, Whitewalls, Padded Dash and Sun Visors, Tachometer, Electric Clock, Dual Exhaust, Carpet, Courtesy Lights, Back-up Lights, Dual Rear Mount Antennas, Dual Hooded Mirrors. Notes:
February 2002 till January 2003 car had a complete engine and transmission overhaul, also replaced all power steering and Teletouch components.
Summer 2004, re-built front and rear suspension.
First half 2005, car was stripped to bare metal and then repainted with a two part epoxy primer, 3 coats of DuPont paint (Powder Blue and Frost white) and 3 coats of clear. Most of the chrome was replaced or replated.

The car won First in class at the 2005 IEC Rally in Bowling Green, Kentucky.
---
---
©2005 Edsel.com All Rights Reserved