X8SX701448 <!- 57A HFF B 22H 4 A (dataplate displayed) -->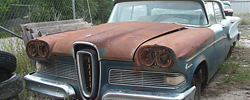 Dataplate specifications
Corsair, 4-door hardtop, Royal Blue Metallic with Powder Blue
Blue vinyl and cloth interior

"E-475" 410cid 345bhp V8, Teletouch automatic transmission, 2.91:1 axle ratio
Edsel number 701448 manufactured in Somerville, MA on August 22, 1957
---
Information as of: October 2003

Owner: unknown (online auction car)
Location: Roswell, New Mexico
Owned since: unknown Mileage: unknown
Condition: Salvageable
Originality: Modified floor shifter (removed) Accessories included: Teletouch Automatic Transmission, Radio, Back-up Lights Notes:
Purchased from an estate sale. Clean title. This was a Southern Colorado car and wasn't eaten up by road salt like a lot of Northern cars were. Engine was rebuilt but it doesn't appear to have been started. The radiator is in the back seat. No plug wires or balancer. No keys.
At some point someone put a floor shifter in but it is gone and the 2X3 hole will need to be patched. Otherwise this body is pretty good. The interior will need to be completely redone. Not all parts are here - No hub caps, light grills, or the fixtures the grills sit in, and a few other things I'm sure. The car has had the carpet removed and a few pieces of glass are cracked.
---
©2009 Edsel.com All Rights Reserved