X8SX701304 <!- Second line -->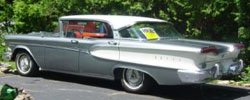 Dataplate specifications
Corsair, 4-door hardtop, Silver Gray Metallic with Frost White
Gray vinyl/Red cloth interior

"E-475" 410cid 345bhp V8, Teletouch automatic transmission, 2.91:1 axle ratio
Edsel number 701304 manufactured in Somerville, MA
---
Information as of: July 2004

Owner: unknown (online auction car)
Location: Stillwater, Minnesota
Owned since: unknown Mileage: 64,000
Condition: Drives well, needs minor restoration
Originality: unknown Accessories included: Teletouch Automatic Transmission, Radio, Whitewall Tires, Wheel Covers with Spinner, Two-tone Paint, Hooded Side Mirror, Back-up Lights, Front and Rear Bumper Guards Notes:
This unmolested car is believed to still have the original plugs and plug wires! The wheels and radial tires are in good condition. This car not too long ago was a trophy winner! Currently this car is in very good to fair overall condition, a nice driver.

The engine is original and runs out nice, it idles down smoothly. This is not an oil burning car. The transmission push button mechanism has been updated and shifts the car into all gears. The tires are about 70%. The brakes (drum) are newer and stop the car very well.
Overall paint condition is fair. It could use new paint if you are looking for that high gloss finish. The body panels have had and are in need of some light body work. The panels are not rusted out to the point of holes through them but should have some attention. Floor panels and trunk panels are generally solid. There are small areas that are soft. The trunk floor has had some reinforcing work done to it.
The chrome including the bumpers are still in fair condition. Some minor pitting but still shines up nice. The only missing trim is the hood ornament.
The glass is all intact with only one of the wing windows having a small crack in it. The interior is in very good condition. The seat covers, door panels, dash and carpet only show normal light wear. Exterior and interior lighting, (except a couple of dash bulbs) all work, even the original tube radio still warms up and works as it did when the car was new!
---
©2003 BE All Rights Reserved