X8SX700299 <!- 57A JJE D 22G E N -->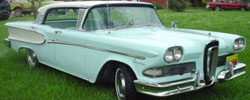 Dataplate specifications
Corsair, 4-door hardtop, Ice Green with Frost White
Green vinyl and cloth interior

"E-475" 410cid 345bhp V8, Teletouch automatic transmission, 3.22:1 axle ratio
Edsel number 700299 manufactured in Somerville, MA on July 22, 1957
---
Information as of: June 2005

Owner: Ora Hennessy
Location: Dysart, Iowa
Owned since: 2005 Mileage: 105,000
Condition: In restoration
Originality: Stock, with some updated parts Accessories included: Teletouch Automatic Transmission, Standard Radio, Power Steering, Power Brakes, Tinted Glass, Padded Dash and Sun Visors, Two-tone Paint, Rocker Panel Mouldings, Electric Wipers, Compass, Electric Clock, Windshield Washer, Front Seat Foam Cushions, Rear Seat Foam Cushions, Front Bumper Guards, Rear Bumper Guards, Padded Sun Visors, Oil Filter, Dual Exhaust, Carpet, Hooded Side Mirror, No-Glare Rear-view Mirror, Courtesy Lights, Back-up Lights, Glove Box Light Notes:

---
Information as of: November 2004

Owner: unknown (online auction car)
Location: Central Nebraska
Owned since: unknown Mileage: 105,583 (as of Sept 2003)
Condition: Runs and drives
Originality: All parts are factory authentic for the car Accessories included: Radio, Wheel Covers, Tinted Glass Notes:
Engine runs strong in this #3 condition driver. It has had many things done to it to make it dependable - a complete tune-up consisting of new points, condenser, rotor, cap, wires, and plugs, the carburator has been taken apart and cleaned up, and it has new fuel lines to the fuel pump and from the fuel pump to the carburator. It has all new radiator and heater hoses, new thermostat and fresh antifreeze. It has all new generator and power steering belts. The generator has been rebuilt, and it charges correctly. It has new battery cables. The transmission pan has been pulled and the bands have been adjusted. The tranny pan gasket was then replaced and new fluid was put in. The u-joints have been replaced, and the axle bearings and seals have also been replaced. It also has new tailpipes.
The brake system is all new, with new wheel cylinders, shoes, and springs on all four corners. It has new lines. Due to the lack of time and money, the original tredle-vac system was removed, and a manual brake system was put in its place. It was taken out of a 58 Mercury, so nothing has been messed up. It also has brand new tires.
The car needs time and TLC. It needs carpet and a dash pad. The compass, fuel gauge, clock, blower fan, and radio do not work. The heater controls need to be cleaned and adjusted. It also needs a heater core. The exterior needs a little work. It could use a paint job, but it is not necessary at the time. It is supposed to have rocker chrome, but they are missing. It needs a hood ornament and new bumper gaurd inserts. The tail light lenses have been replaced, but they are not the best quality reproduction lenses. All of the chrome is there and the majority of it is straight and usable. The windshield and right rear door glass are cracked. The back glass has been scraped, but it is still intact at this time. The best part about this car is that there is NO rust. The floor boards and trunk floor do not have holes, and the spare tire well is all there. There is no rust in the quarters. It would be an easy restoration project.
---
©2005 Edsel.com All Rights Reserved