OS12Y700007 <!- 58B MZ 15 31G 3 8 -->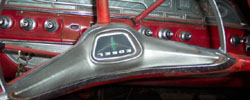 Dataplate specifications
Ranger, 4-door sedan (deluxe interior), Polar White with Cloud Silver Metallic
Red vinyl/Champagne cloth interior

352 Express V8, Mile-o-matic 2-speed transmission, 2.91:1 axle ratio
Edsel number 700007 manufactured in Louisville, KY on July 31, 1959
---
Information as of: January 2005

Owner: James Swank
Location: Bakersfield, California
Owned since: September 2004 Mileage: 61,224
Condition: Drives well, needs minor restoration
Originality: All parts are factory authentic Accessories included: Heater/Defroster, Column Automatic Transmission, Standard Radio, Whitewall Tires, Wheel Covers, Two-tone Paint, Windshield Washer, Padded Sun Visors, Dual Exhaust, Hooded Side Mirror, Back-up Lights, Fender Skirts Notes:
Pilot car out of Allen Park, Michigan. Thanks to previous owner Billy Apgar's love for Edsels, it now runs and drives great. I drove it home over 3,000 miles without problems.
---
Information as of: October 2003

Owner: Billy Apgar
Location: Conroe, Texas
Owned since: October 25, 2003 Mileage: 53,000
Condition: Runs and drives
Originality: Factory original Accessories included: Clock, Wheel Covers, Radio Notes:
Probably the only 1960 Pilot car still on the road. Silver padded horn ring is unique, as are the chrome knobs on the dashboard. There is also no trim on the glove box.
---
Information as of: February 1993

Owner: Bill Stiger
Location: Muskogee, Oklahoma
Owned since: unknown Mileage: unknown
Condition: Runs and drives
Originality: unknown Accessories included: unknown Notes:
Re-painted Cloud Silver Metallic.
---
©2005 BE All Rights Reserved