W8RG704902 <!- 63A RRR N 21L 1 C -->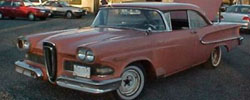 Dataplate specifications
Ranger, 2-door hardtop, Sunset Coral
Black cloth/white vinyl interior

361cid E-400 V8, 3-speed manual transmission, 3.70:1 axle ratio
Edsel number 704902 manufactured in San Jose, CA on November 21, 1957
---
Information as of: March 2003

Owner: unknown (online auction car)
Location: Centralia, Washington
Owned since: unknown Mileage: 98,136
Condition: Drives, but needs restoration
Originality: unknown Accessories included: Standard Radio, Wheel Covers Notes:
The body and the interior appear to be original. I have no idea if the engine is original. It runs good but needs a lot of restoration.

The car runs and drives and the overdrive does work. The engines sounds good and the brakes are good. The speedometer works and so do some of the idiot lights. The heater fan and the heater still work. The radio works when it wants to. The wipers do not work.

It is missing chrome on both sides and the right headlight bezel is missing as is one light. The floor pans will need to be replaced. The right rocker panel is very rusty and there is rust in the lower front fenders and doors. There is minor rust in the rear fender wells. Both right and rear driver's side windows are cracked, all the rest of the glass appears to be good. There is some rust around the rear window. The chrome bezels are pitted. The right side tail light is included and so are the four original hubcaps. The interior is okay but needs work. It will need tires.
---
©2002 BE All Rights Reserved