W8RR704150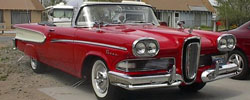 Dataplate specifications
Pacer, convertible, Snow White
Black/white vinyl interior

361cid E-400 V8, Teletouch automatic transmission
Edsel number 704150 manufactured in San Jose, CA on November 30, 1957
---
Information as of: August 2002

Owner: Richard Covell
Location: Reno, Nevada


Owned since: May 2001 Mileage: 194,000
Condition: Drives well
Originality: Updated engine components, New paint scheme Accessories included: Power Steering, Power Brakes, Tachometer, Tele-Touch Automatic Transmission, Speed Warning System, Oil Level Warning, Electric Clock, Door Open Light Notes:
This car is in excellent shape, drive her anywhere. Her name is Marilyn. She was photographed by a professional photographer in October 2003, and she should make some of the 2006 calendars. She's in a book that just came out, American Cars, Past & Present by Matt Delorenzo, pg. 199, a 2-page spread. She's the only Edsel in there.
She was painted in May 2002, Swift Red and Snow White. There are a couple of small chips off the paint, but I have touch up paint. Interior is pretty decent, new carpet, dash just taken out and painted. She has 5 Coker W.W. tires, fender skirts, and spinner hubcaps. She has dual hooded mirrors, and dual antennas, and Town & Country radio. The 361 ci engine is good. It had 135 to 140 lbs of compression last time I checked. She has a Petronix electronic ignition instead of points, an Edelbrock carb, and chrome valve covers with E400 on them, new fuel pump and PS pump. I have everything to put back original. Front end has been rebuilt. She has a new wiper motor, and I put on electric w/washers. She has a digital water temp guage, and an amp guage, new Smitty's mufflers, new reproduction tail light lenses w/chrome tape. The rear floor pans had holes, and were patched instead of replaced. The fronts are good. Other new items are the top (now white) and weatherstripping, brakes, heater core, trunk mat, and I rebuilt the steering column. The Teletouch works great. I had the tach and the speedo serviced when I had the dash out.
---
Information as of: January 2001

Owner: Mike Hinsch
Location: Oregon
Owned since: unknown Mileage: unknown
Condition: Drives, but needs restoration
Originality: unknown Accessories included: Power Steering, Power Brakes, Tachometer, Tele-Touch Automatic Transmission Notes:
As seen at the San Ramone EOC Meet, on the show Amazing America. This car is in excellent mechanical shape with new radiator, exhaust, generator, hoses, belts, rebuilt power brake booster, good radial tires, will go anywhere. Interior is in better than average shape, needs carpets. Black vinyl top is old but looks good, rear window needs replacement. Body has rust in rockers, bottom of fenders and in rear floor boards. She's not perfect but complete. This car deserves a good home because it has served us well!
---
©2005 BE All Rights Reserved