W8RG703465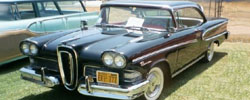 Dataplate specifications
Pacer, 2-door hardtop, Jet Black
Red cloth/white vinyl interior

361cid E-400 V8, Teletouch automatic transmission*, 2.91:1 rear axle ratio
Edsel number 703465 manufactured in San Jose, CA on October 18, 1957
---
Information as of: February 2005

Owner: Brian and Stephanie Martin
Location: Riverside, California
Owned since: November 10, 2000 Mileage: 91,222
Condition: Drives well - almost #3 condition
Originality: Stock, with white upholstry over original white/red Accessories included: Power Steering, Power Brakes, Power Seat, Tachometer, Clock, Bumper Guards, Teletouch, Door Ajar Light, Rocker Panel Molding, Tinted Glass, Dual Hooded Mirrors Accessories added/updated: Spinner Hubcaps, Exhaust Deflectors, Dual Exhaust, Dealer Floormats with embossed "E", Town and Country Radio, Rear Seat Speaker, Dealer installed seat belts, Underhood light, Trunk light Notes:

---
Information as of: September 2000

Owner: Dianne Sullivan
Location: Fresno, California
Owned since: unknown Mileage: 91,000
Condition: Runs and drives very well
Originality: Stock, with an updated transmission linkage Accessories included: unknown Notes:
Driven short distances 1 - 2 times a week.
*Tele-touch transmission is not connected, my dad made a direct link to transmission through the floor board.
It has been repainted and possibly rechromed at some point during the years my dad owned it. Seats and headliner have also been redone in white.
Minor damage to right headlight and trim as a result of a brake failure on 9/27/00.
---
---
©2000 Edsel.com All Rights Reserved