W8RV702811 <!- 79B QQN AU 19J 4 3-->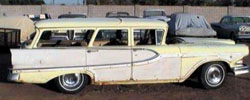 Dataplate specifications
Bermuda, 4-door 9-passenger wagon, Jonquil Yellow with Driftwood
Driftwood vinyl/jug cloth interior

361cid E-400 V8, Teletouch automatic transmission, 3.22:1 axle ratio
Edsel number 702811 manufactured in San Jose, CA on September 19, 1957
---
Information as of: May 2003

Owner: unknown (online auction car)
Location: Litchfield Park, Arizona
Owned since: unknown Mileage: unknown
Condition: Not Running but salvageable
Originality: unknown Accessories included: unknown Notes:
This is a good solid candidate for a complete restoration. The car is mostly complete. The taillight housings are in the car, most of the side glass was broken out, but most of the windows are included in the car. All of the fiberglass woodgrain rails are in good condition. The car is missing the rear seat cushions for the rear most compartment.

It is an Arizona car but it still has a couple of minor rusted areas in the floor pan due to the original rubber floormats. Also a tender area is the the passenger side rocker just in front of the rear wheel opening and the bottom of the tailgate. There is one dent in the roof.

The engine and transmission are mostly complete, but it has not been been on the road for many years and does not run. It is in above-average conditon for starting a total restoration.
---
©2003 BE All Rights Reserved