W8RT701661 <!- Second line -->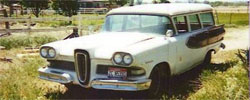 Dataplate specifications
Villager, 4-door 6-passenger wagon, Snow White
Red vinyl/gold cloth interior

361cid E-400 V8, Teletouch automatic transmission, 3.22:1 axle ratio
Edsel number 701661 manufactured in San Jose, CA on August 27, 1957
---
Information as of: August 2007

Owners: Ed and Kathy O'Malley
Location: Hoodsport, Washington
Owned since: February 2003 Mileage: 149,880
Condition: In restoration
Originality: Floor shift added Accessories included: Dial-Temp Heater/Defroster, Teletouch Automatic Transmission, Standard Radio, Two-tone Paint, Electric Clock, Windshield Washer Notes:
Originally purchased from Walt Anderson - Boise. Rear scallop is Jet Black.

More photos of Wonda the Wagon can be found on the Edsel Lovers Email Group website.
---
Information as of: April 2002

Owner: Clay Thornton
Location: Notus, Idaho
Owned since: unknown Mileage: unknown
Condition: Drives, but needs restoration
Originality: Modified (floor shift added) Accessories included: unknown Notes:
It has a crack in the drivers door window, and a few small chips in the windshield, but no cracks. The rear bumper is bent a little, but there are no dents in the body. The motor runs great and still has good compression in all cylinders. There is a rust area below the driver door and some small rust spots here an there, but no major body work. The electric shift motor still works but someone installed a floor shift in it. I never got around to fixing the shift back. The interior is a little ratty but nothing real bad.
---
©2007 Edsel.com All Rights Reserved