W8RG701285 <!- 63A AAE N 20H 3 A -->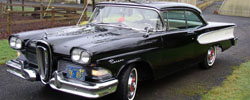 Dataplate specifications
Ranger, 2-door hardtop, Jet Black with Snow White
Black cloth/white vinyl interior

361cid E-400 V8, column automatic transmission, 2.91:1 axle ratio
Edsel number 701285 manufactured in San Jose, CA on August 20, 1957
---
Information as of: February 2005

Owner: Bob Gutmann
Location: Near Portland, Oregon
Owned since: unknown Mileage: unknown
Condition: Excellent
Originality: All but non-Edsel engine, ignition Accessories included: Column Automatic Transmission, Radio, Wheel Covers with Spinner, Two-tone Paint, Hooded Side Mirror, Back-up Lights Notes:
Not a show car but a well preserved and dependable driver. Black with white scallop (mostly original paint), it has a solid body with no rust under head lights, rockers, rear quarters or around gas filler. Underside of hood and deck lid have no rust around the edge seams. The bottoms of each front fender have a few 1/4"-sized blisters under the paint. There are a couple of small dings, one on the hood and one on the driver side rear quarter. The pot metal is very good as are the tail lenses. The glass is all good, however the passenger door glass needs new felt channels (included with the car). The car has electric wipers. Mechanically, the car runs well. It has a 352 motor (of 1962 vintage) w/ 2bbl carb that was installed long before I bought the car. Manual steering and brakes. Correct and uncommon lever automatic. Maintenance in the past few years besides normal oil and lube: radiator boil out, generator rebuild, water pump, fuel pump and plug wires, replaced, Pertronics ignition. It has 5 good radials. Interior is a strong point - seats, door panels, headliner, are all correct, original, and in nice shape. Original floor mats have a few cracks but are complete and intact. Trunk is carpeted. We've used this car regularly for the last 15 years but it's time to pass it on.
---
Information as of: September 1989

Owner: Brad Board
Location: Medford, Oregon
Owned since: unknown Mileage: unknown
Condition: Cracked windshield, but drive anywhere
Originality: unknown Accessories included: unknown Notes:

---
---
©2005 Edsel.com All Rights Reserved