W8RT700053 <!- 79D AV -->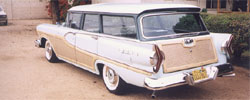 Dataplate specifications
Bermuda, 4-door 6-passenger wagon, Ice Green with Spruce Green
Turquoise/white vinyl interior

361cid E-400 V8
Edsel number 700053 manufactured in San Jose, CA
---
Information as of: November 2002

Owner: unknown (auction car)
Location: Palm Springs, California
Owned since: unknown Mileage: 59,000
Condition: Nicely detailed show car
Originality: Stock, with a few minor non-Edsel parts Accessories included: Power Steering, Power Brakes, Electric Windshield Wipers, Four-way Power Seat Electric Clock, Tachometer Notes:
(2003: Sold in a Barrett-Jackson auction for $39,750)

Bud Goodman submits:

At McCormick's Antique Car Show and Auction in Palm Springs, I found this Bermuda, as well as a Pacer Convertible. Here is some information which was posted in the windows of the Bermuda and collected by visual means:

The posting stated that the owner believes this to be the oldest Bermuda in existence, if not the first unit manufactured. I would tend to think this is very likely. Although I did not see the mfg. date, I would think that it was made on the first or second day of '58 production at the San Jose plant.

The radio antenna is a manual type. The floor features green carpet. I am not sure about the tinted glass, though.

The interior is listed as "correct" Ice Green/White Vinyl (Code AV). The exterior color is Ice Green with Spruce Green around the window area. Very nice indeed.

The owner is very forthright in disclosing several items which are incorrect or need work. He says the interior door handles are from Mercury and should be changed. The horn is inoperative. The interior dome light is incorrect, and some carburetor work is needed. Since these are the only problems, one can see what a fine auto this is. Under the hood was excellent.

This car was drawing quite a crowd, as you can well imagine.
---
©2002 BE All Rights Reserved