W8RG700007 <!- 63A NKK K 29G 4 A -->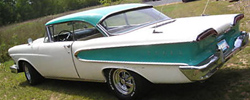 Dataplate specifications
Ranger, 2-door hardtop, Driftwood with Spring Green
Green cloth/white vinyl interior

361cid E-400 V8, Teletouch automatic transmission, 2.91:1 axle ratio
Edsel number 700007 manufactured in San Jose, CA on July 29, 1957
---
Information as of: November 2008

Owner: unknown (online auction car)
Location: North Branch, Minnesota
Owned since: unknown Mileage: 65,000
Condition: Drives very well
Originality: Repainted turquoise/white Accessories included: Teletouch Automatic Transmission, Radio, Power Steering, Power Brakes, Dual Rear Deck Antennae, Bumper Guards Notes:
Mechanically 100% strong, 98% rust free. There is a rust hole in floor pan behind the driver's seat and a rust hole around the base of the gas pedal. Over $6,000 has been spent making this car 100% mechanically sound. You can barely hear this car running when you are standing next to it. It runs just absolutley smooth!.

Here is what Edsel guru Phil Skinner had to say about the low production status of this car.

"I think it is safe to say that it is a very early production unit (anything built before 01H, August 1, 1957, falls into that catagory) and that is has a very special unit number, perfect for the ultimate fans of James Bond and Edsels!

"In late June 1957, San Jose, Mahwah, Louisville and Somerville, four of the six Edsel plants, ran a "pilot" or pre-production run of between 12 to 20 Edsels at each plant. At these plants, the unit numbers on these pilot models ran from 700101 up to about 700120, based on how many pilot models each plant actually built.

"On July 15, 1957, when regular production started, they picked up the unit sequence numbers from where they left off, around 700120 or thereabouts. So, on July 15, the first Edsels off the regular production line were 700121, 700122, 700123, etc., but not in that order. In automotive production the unit numbers rarely have any corelation to when a car is actually produced.

"At Louisville, Mahwah and San Jose, about two weeks after production, scheduling released the unit numbers 700001 to 700100 for production, and that is where your 700007 unit comes into play. (For some unexplained the reason, the Somerville plant produced only one car in the 700001 to 700100 sequence, that was 700001, which is on display at the Henry Ford Museum in Dearborn, Michigan). I had a hard time figuring out why they didn't run the numbers in order. It turns out the numbers are issued by production department and then sent to the scheduling department. When the line is able to handle the order it is given a "scheduled" date. However, if there is a problem, like a shortage of a certain color paint that the car had been ordered in or a major factory installed option, the actual production of the car can be delayed. So the "scheduled" date on a data plate and the actual production date can be up to two or even three weeks off."
---
©2009 Edsel.com All Rights Reserved