958DK59-551305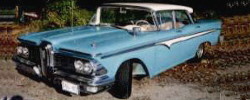 Dataplate specifications
Ranger, 4-door sedan
Color 6Ta: Blue with White
Trim 73: Buff vinyl

Engine M2: 352 2-bbl
Edsel number 551305 manufactured in Windsor, Ontario
---
Information as of: September 2000

Owner: Stella Mutch
Location: British Columbia, Canada
Owned since: unknown Mileage: 94,000
Condition: Drives well
Originality: unknown Accessories included: unknown Notes:
Original interior, new brakes and exhaust system. Exterior has a new paint job, Egg Shell Blue/White. Bias Ply Rubber. Motor purrs along.
Originally Sold by Brown Brothers Auto in British Columbia and has been in B.C. ever since.
---
©2000 BE All Rights Reserved