958DK59-528665 <!- Second line -->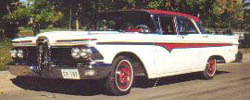 Dataplate specifications
Ranger, 4-door sedan, Snow White with President Red


332 Express V8, Mile-o-matic 2-speed transmission
Edsel number 528665 manufactured in Oakville, Ontario, Canada
---
Information as of: June 2002

Owner: Art
Location: Alberta, Canada
Owned since: unknown Mileage: 59,552
Condition: Runs and drives
Originality: unknown Accessories included: Power Steering, Power Brakes, Wheel Covers with N.O.S. Spinners, Two Hooded Mirrors, T&C Radio, Dial-Temp Heating and Ventilation Notes:
I have the original glove box and shop manuals. Chrome and glass are in excellent condition. 2002 Spring tune-up and service completed.
---
©2002 BE All Rights Reserved