W8EH703244 <!- 57B RAA S 21H 4 B -->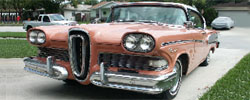 Dataplate specifications
Pacer, 4-door hardtop, Sunset Coral with Jet Black
Coral cloth/white vinyl interior

361cid E-400 V8, Teletouch automatic transmission, 3.22:1 rear axle ratio
Edsel number 703244 manufactured in Mahwah, NJ on August 21, 1957
---
Information as of: January 2005

Owner: John D. Farneti
Location: Melbourne, Florida
Owned since: June 2003 Mileage: 75,332
Condition: Drives well
Originality: Stock, with some updated parts Accessories included: Radio, Power Steering, Power Brakes, Compass, Dial-Temp Heater/Defroster, Teletouch Automatic Transmission, Standard Radio, Wheel Covers, Two-Tone Paint, Electric Wipers, Traffic Light Viewer, Whitewall Tires, Windshield Washer, Oil Filter, Paper Air Cleaner, Carpet, Hooded Side Mirrors, Courtesy Lights, Back-up Lights, Glove Box Light and a Locking Gas Cap. Notes:
Has new electronic ignition and new Holley 4 bbl carb. Car is in very good condition from a prior restoration. Minor transmission leak, haven't had a chance to locate.
No dents or dings. Older repaint job, overall good – no rust. Recently re-chromed the hooded side view mirrors, side body chrome is excellent – Chrome decorations on lower sides of the roof need restoration. Bumpers are in decent condition with a small area on the rear bumper where it appears someone tried to pull the car by hooking something to it – driver side front bumper has some peeling on the underside.
All glass is complete – passenger side front door window has small crack in upper front.
Prior re-upholster – still nice, no front seat kick panels, but I have templates cut out for covering. Teletouch transmission works well, 50K+ unverified mileage on odometer, radio works on one station.
---
Information as of: November 2002

Owner: Robert S. McKeeman
Location: Marietta, Georgia
Owned: April 2002 - June 2003 Mileage: 74,623
Condition: Drives and looks great
Originality: Updated Headliner and Upholstery Accessories included: Radio (still works) Notes:
Car was shipped from Virginia in May 2002.

November 2002: Just participated in the Georgia Tech Homecoming "Ramblin Wreck" parade, and was a crowd favorite!
---
Information as of: March 2002

Owner: Dale Early
Location: Staunton, Virginia
Owned since: unknown Mileage: 74,000
Condition: Runs and drives well
Originality: unknown Accessories included: unknown Notes:
New carpet, paint, brakes, headliner, windshield and rear window rubber, rubber above side windows.
Rear seal leaks some, paint has a few sags - not bad. Sometimes doesn't shift into park (emergency brake holds good), seats need to be redone
---
©2005 BE All Rights Reserved