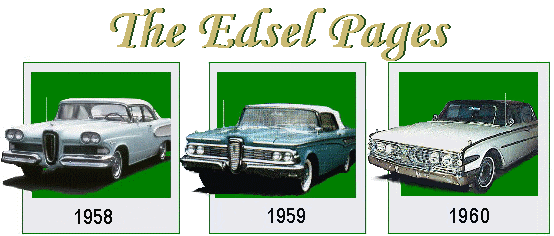 SPECIALTY EDSELS
---
There are several examples of Edsels designed specifically for use as emergency vehicles.
If you have information about original Edsel fire, police, 1958-1959 Amblewagons or Arlingtons, please contact admin@edsel.com today!
---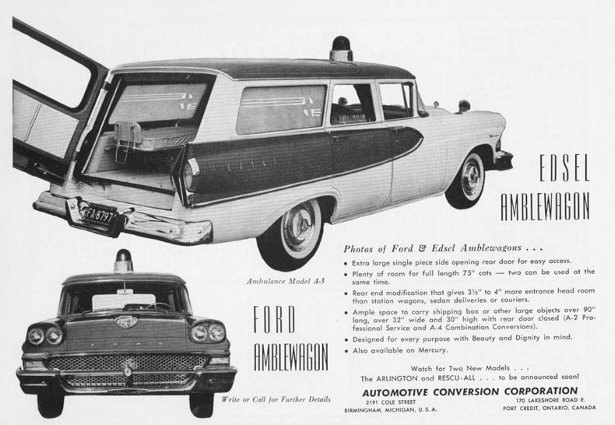 AMBLEWAGONS were built by Automotive Conversion Corp. of Michigan and Ontario, and used a station wagon as the basis for their conversions. They were available as ambulances as well as hearses!
The Amblewagon could be built on Edsel Villager, Roundup or Bermuda platforms. They could also be ordered as Ford or Mercury designs. Edsel wagons destined to be Amblewagons were ordered with the 9-passenger middle seat, and the tail and lift gates deleted. A special ambulance-style rear door was added, plus the needed hardware to accompany stretchers and medical gear was added.
The Villager/Roundup/Bermuda script was not removed from the front fenders of the 1958 model. A fiberglass "Amblewagon" nameplate was added to the rear door, and a chrome "V" was added below the nameplate, (the same as 56 Chevys!). The "Amblewagon" nameplates did replace the Edsel model designation on the front fenders of the 1959's. The company touted that in five minutes the customer could convert the Amblewagon from medical server to family wagon. It is unknown how many Edsel Amblewagons were built, but several examples do survive from both 1958 and 1959.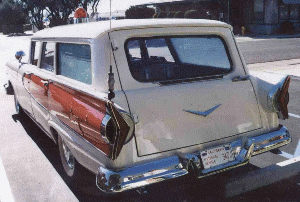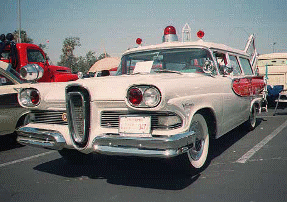 (This 1958 Amblewagon is being restored by Dave Lee, who was kind enough to provide the Amblewagon facts and photos on the Specialty Edsel Page!)
The conversion consisted of the following..
AMBULANCE
Rear door, interior cabinets (covered with box calf vinyl), gurney and hardware, grill mounted (or roof) red lights, roof mounted revolving red light (beacon ray), head light flashers, under the hood siren, rear quarter glass plexiglass inserts (frosted with ambulance crosses) and rear door glass pull down shades. All of this could be removed (save for the grill lights) with wing nuts.
HEARSE
Rear door, interior cabinet (as above), casket rollers and "bier pins" (these hold the casket in place), curtains for the rear glass. This conversion was known as the "Arlington".
COMBO CAR
Just the name implies, the ambulance with removable casket rollers and the ambulance package.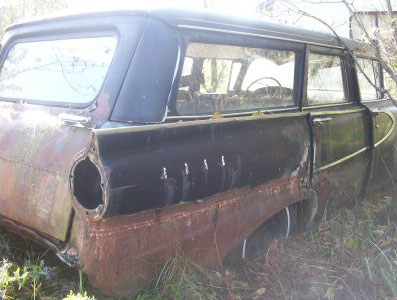 A rare 1958 Edsel Hearse
in it's place of rest, in
Harrowsmith, Ontario, Canada.
Although with considerable work,
it may ride again.

Photo is from its October 2003 online auction.

---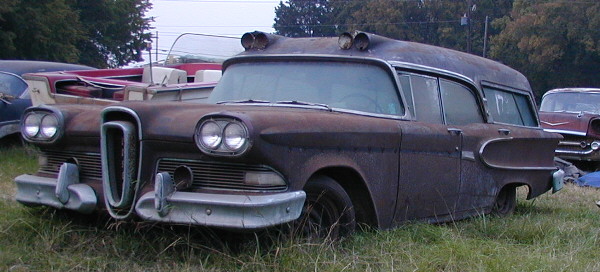 1958 Edsel Ambulance
At least one example of a 1958 Corsair ambulance exists. Constructed by the Memphian Company in Memphis Tennessee, this unit is most unique in that the construction was based on the Corsair 4-dr hardtop. The VIN on this car has been removed, but the original exterior color was gold, and the interior was gold and white.
As of 2005, the car shown is under restoration in Guyton, Georgia, by its owner Charles Shearouse.
---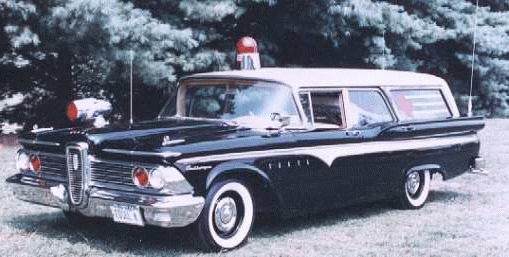 1959 Edsel Amblewagon
In this beautiful example of the 1959 Amblewagon, the special script is clearly visible on the front fender.
This car is owned by Lance Alfieri of New York, and is seen here at a Professional Car Society meet in Maryland in 1989. He recently stated it's been in storage since that time, and is still in good shape.
---


1959 Edsel Ambulance
This 1959 Edsel Ambulance is not an Amblewagon, but is rather a very rare Siebert-built unit. It is believed that just two of these were done in 1959 by Siebert. Siebert basically built stretch custom versions of Ambulances on Ford station wagon chassis. But what they did was no simple "stretch". They crafted a new center door on each side, sealing the original rear door. The entire roof line was specially constructed, as was the rear loading door.
This particular car started life as a 1959 Villager. Siebert ordered the car in primer rather than finished paint, but with the red and gold puff cloth interior. This particular car is believed to have served a southeastern U.S. city. Long-time Edsel fan Rod Brennerman owned the 1959 Siebert Ambulance for several years before selling to Brad Fakeley (pictured) in 1991. It is truly one of the most unique custom built Edsels ever produced.

---
1958 Edsel Fire Wagon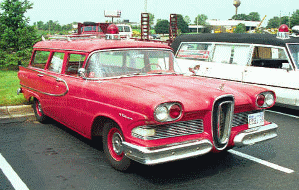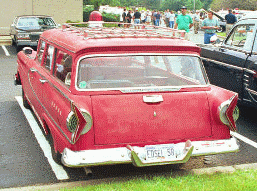 The Berkeley, Michigan Fire Department used this 1958 Edsel Villager as a rescue vehicle. It's seen only 13,000 original miles, and is currently owned by Mike Reichenbach of Plainfield, Illinois.

---
Special thanks to Amblewagon owner Dave Lee for the detailed information and photos, Phil Skinner for the Siebert Amblewagon facts, and to Jimmy Wilfong for the Memphian photo, and Jack E. Jones, III for first notifying us of this rare example.
---