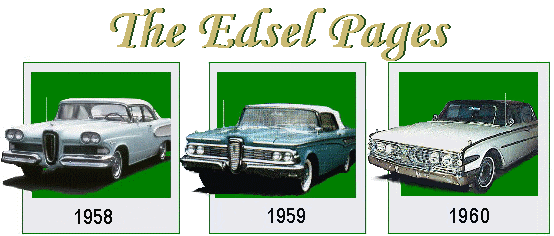 EDSEL WRECKING YARDS
---
Original Edsel parts are getting harder and harder to find, so to make things a little easier, this page lists any known junk yards that have the distinction of having one or more Edsels as residents.
This may be the toughest Edsel Page to keep current, but anything that can be done to help keep your Edsel on the road is worth trying!
The list is alphabetical by state/province.
To add to the list, or report a car's removal from the list, please contact admin@edsel.com
---
Alabama
On the Alabama/Mississippi State Line


"I'm not an Edsel fan, but saw your Web page in the Birmingham, Alabama newspaper today, and remembered a junkyard close to where I live that has some Edsels in it. This junkyard is located between Vernon, Alabama and Columbus, Mississippi on Highway 19. 'Just thinking of other car collectors!"


Submitted by Calvin on February 16, 2000

Fagan's Auto Parts
Piedmont, AL

These cars were bought up as a collection years ago and Fagan's bought them after the collector died. Fagan's numbers are 800-331-5282 and 205-447-8793.
W8UF711715 58B FFH F 05J 4 A
B9UV726317 71E EE 32 16B 3 1
B9US727178 58B NN 54 24B 3 5
B9US730402 58B ED1 39 21C 3 5
A9UF706740 58D SE1 23 11L 1 2
W8UF720448 58A EEE B 11K 4 A
W9UT714362 71F SS 30 16M 4 5
C9UF733326 58D EA1 501 13D 3 1
There are three more cars, but the numbers are not yet available.


Submitted by Andy Black on January 10, 1999
---
Arkansas
Evans Auto Repair
Morrelton, AR
366 Highway 95, Morrelton, AR 72110, Phone: (501)354-9020
"The Edsel is a 1959 Ranger, 6 cylinders, four door with the following MEL information
A9UF732536 58D EE 24 07D 1
The owner will part out the car. He has no electric windshield motors but the parking light lens are good and so is the front grill.
He also has a lot of 1957 Fords and a few 1959 Fords."

Submitted by Delwyn Watt on June 8, 2000
---
Arizona
Desert Valley Auto Parts

www.dvap.com
1-800-905-8024
Fax 1-623-582-9141

They have various Edsels (and specialize in selling rust-free vintage cars and parts online).


Submitted by Andy Peters on April 8, 2002

Hidden Valley Auto Parts

Maricopa, Arizona
www.hiddenvalleyautoparts.com
Email: HVAP@aol.com
Phone: 520-568-2945 or 602-252-6137

According to the nice folks at HVAP, there are about 20 Edsels in the yard for good used parts.
---
California
Big M Automotive
Williams, CA
www.bigmauto.com
Email: bigmauto@colusanet.com
Phone: 530-473-2225

They have 20 to 30 Edsels in the yard, from all three years - even three 1960 four door sedans, plus a '59 wagon and numurous '58's. Most are from the Napa collection that was on ebay awhile back. Also lots of 57-60 Mercury and Ford cars, too.

(Feb 2003: Edsel X8SW703235 arrives, too.)


Submitted in 2002, updated on July 3, 2013

Desert Truck and Auto
Coachella, CA

There are a couple of Edsels in this wrecking yard, a 1958 and a 1959. Model information is coming soon.


Submitted by Joe Machado on April 13, 2000
---
Connecticut
Stewart's
Winsted, CT
1-800-726-0871
They have many antique cars including a 1959 Ranger 4 door. It is rusty, but looked complete.


Submitted by Steve Coan on January 2, 2002
---
Georgia
Johnson's Auto Salvage
1029 County Line Road
Griffin, GA
1958 Edsel Ranger W8UG701677 was documented at Johnson's Auto Salvage in 2004. It has some rust issues but nothing that couldn't be fixed. It is in pretty good shape and is for sale as is everything in the yard.

Submitted by aa3 on October 12, 2004
---
Indiana
Fields Junkyard
Greenfield, IN

"I remember seeing a 1958 or 1959 Edsel. It's a 4-door Ranger I believe. It is sitting in Fields Junkyard in Greenfield Indiana, which is half an hour east of Indianapolis. Last time I was there it was a complete car with a lot of good parts. It has been sitting for about a year or two."


Submitted by Wizardofhoi@cs.com on June 17, 2001

Old Cars For Fun
505 South Tibbs
Indianapolis, IN

"If you are interested in Edsels, Old Cars for Fun in Indiana has several 1958's-1959's for parts."


Submitted by Mark on July 17, 2003

Plessinger Auto Parts
Scottsburg, IN

"There is a 1959 Edsel Corsair 4-door at Plessinger's. This auto parts is on SR 3 and SR 56 near Scottsburg, Indiana. It still has a lot of good parts, the only thing that has been sold off it is the wiring under the hood and the passenger-side headlight ring."


Submitted by Wilson Bechtold on February 22, 2002

Sagebrush Classic Auto


We have about five Edsels in our salvage yard inventory. We are not experts but have three two-door hardtops, one four-door sedan and one four-door wagon. People with parts needs can contact us at Sagebrush@direcway.com. Thank you.


(Although we are located in Indiana, we are mail-order only and cannot accept visitors due to insurance regulations.)
Submitted by Glenn at Sagebrush@direcway.com on February 6, 2003

<!- Pewee Valley, KY --> <!- I ran across this HREF="http://www.vector11.com/edselcom/wreck082603.jpg" '58 hardtop --> <!- in an old junkyard in Pewee Valley, Kentucky. An old guy in his eighties has over 100 --> <!- old classics that have been sitting in his 10 acre back yard for over 30 years. --> <!- One of the amazing scenes is a tree that's grown through the engine compartment of --> <!- two stacked cars and around the back bumper of a Ford Falcon that's on top. I have --> <!- dozens more pics that I took there - from Hudsons to Studebakers. --> <!- Dave Dietmeyer on November 22, 2003 -->
---
Massachusetts
Hollands
Billerica, MA "I was at the junkyard today, and saw a 1959 Edsel there. I thought it said Regal on the side on the rear quarter, but after looking at this web site, I guess it said Ranger. It's stacked on top of two vehicles. I pulled one of the front hub caps off to keep as a memento of Edsels."

Submitted by Bob Gouveia on November 29, 2003
---
Michigan
Easy Russ' Salvage Yard
Grand Rapids, MI

"I found two 1959 Edsels, a Villiager wagon and a Ranger 4-door. They were both six's, no options, and most of the glass was out. Easy Russ' is located in Grand Rapids off of panel road."


Submitted by Steven Kuiper on December 17, 2001

U Pick 'Em
Van Dyke and 8 Mile
Detroit, MI
There is a 1958 Edsel in the U Pick 'Em Auto Parts yard near Van Dyke and 8 Mile Road in Detroit as of 10/24/06. On the south side of 8 Mile to the east approximately ˝ mile of Van Dyke. For these guys, the part is the same price regardless of the vehicle it is taken from. There are lots missing from this car, but the body is generally complete.


Submitted by M. J. Dale on October 24, 2006.

Spencer's Auto Salvage
2998 M-65
Whittemore, MI 48770
989-756-2147 Several Edsels including:



Submitted by Adrian Clements on September 11, 2004.
---
Minnesota
Emily Auto Salvage
Emily, MN

"I'm afraid I don't know their number, but they shipped me an (Edsel) drive shaft"


Submitted by Clint Anderson on June 4, 2000

Windy Hills Auto Salvage
New London, MN "They have 15 Edsels of various models, even 2 convertibles. They are getting rather picked over, though. I got a replacement 3 speed transmission from them a few years ago, 100 bucks for the transmission and all related parts."


Submitted by Clint Anderson on May 29, 2000.
---
Mississippi
Crazy John's
Lizana, MS

"With so few Edsels left in the world, folks can always use fresh input. I own a salvage yard and collect any weird old cars and crush late models 'cause I can. I love old cars and I've had a real sheet metal glacier here for five years.. it's a 1959 Villager wagon, missing the rear end and radiator, but other than that it's complete. Glass is good, trim is all there, body is restorable but rusty. Rented it out to a small rodent family but would evict for fair price."


Submitted by "Crazy John" Fencel on December 25, 2000
---
Montana
Freman's Auto
Whitehall, MT

There is a huge classic car wrecking yard here in southwestern Montana that currently has 14 Edsels for parts. See their website for details, at www.FremansAuto.com


Submitted by Bill Pantano on May 2, 2009

<!- Big D's Vintage Tin North Las Vegas, NV --> <!- Currently has three 1958's and a 1959, plus Fords, Mercs and other classics. Dick --> <!- Drake is the owner, and can be reached at 702-644-2800, or fax 702-644-1753, or email --> <!- A HREF="mailto:bigdvintin@earthlink.net" bigdvintin@earthlink.net /A --> <!- Submitted by A HREF="mailto:coorsair@comnett.net" Phil McGuire /A on July 11, 2000. -->
---
New Hampshire
Johnny's Sales & Service
Winchester, NH

"Being a Ford fan, an owner of a self-restored 66 Mustang, and having assisted a friend in restoring a Falcon, Edsels are of interest. I know of a family run garage where the owners are solid Edsel fans and have a yard full of cars. At one time (approx 10 years ago), I knew he would go anywhere in the country to pick up even a parts car. They are Johnny and Susan Wollock, Johnny's Sales & Service, 616 Warwick Road (Route 78) Winchester, NH 03470. Their shop phone is 603-239-8882. They are very nice people, but in those days were never interested in selling cars or parts (they also have a bunch of 55-56-57 T'birds). Any Edsel fan in New England probably already knows of them."


Submitted by Larry & Vicki Parker on February 8, 2000
---
New Jersey
Aberdeen Salvage
222 Texas Road
Morganville, NJ
(732)566-9899

"I found a fairly complete 1958 Edsel 4-door. The rear has been removed from the car but is still there."


Submitted by Fury67@aol.com on November 12, 2000

Friendship Auto Wreckers
Tabernacle, NJ

"..The salvage yard where the owner always says "we don't get rid of the old stuff". The last time I was there they had at least a half dozen Edsels. All '58's & '59's including a '59 wagon. The yard is located on New Road (off state hwy. 70) in Tabernacle, N.J. Easy to get to from routes 70 or 206. They also have a nice selection of postwar Studebakers and Hudsons."


Submitted by James & Elizabethann Alexander on May 6, 2000
---
New Mexico
Salvage Yards
Carrizozo, NM

A few weeks ago, while in the town of Carrizozo on route 380 (runs east and west) approaching route 54 (runs north south), there are two auto wrecking yards, one on the north side of 380 and the other on the south side. On the south side of wrecking yard of hwy 380 is a 1958 Edsel Corsair. It is original, complete, and in good shape. I carefully checked the car. It is a 4-door, mint green in color, and there is no rust and all the chrome is in excellent shape. The interior is still in good shape with no rips in the seats and appears to be the original mint green. The engine is original and complete but of course does not run. This is either an excellent parts car or an excellent car for restoration. The high New Mexico desert air has been very kind to it. Please email me at edselbabe@yahoo.com if you have any questions.


Submitted by Edsel Babe on October 30, 2005
---
Oklahoma
Empire Salvage
Empire, OK

"Howdy! Folks, I drive a '64 Fairlane and buy my salvage parts from a cultured, Christian gentleman by the name of Vic Barret. Vic owns Empire Salvage, Empire, Oklahoma (580)255-3592 and currently has two '59 Edsels on the yard for parts. The first is a four door, green wagon with a slick body and all chrome, lights and glass (even the back lift up glass). The second Edsel is a tudor post with a so-so body and quite a bit of trim.
Empire Salvage is southwest of Duncan and is open noon to six p.m. Good driving to ya!"


Submitted by Dwayne on August 2, 2000
---
Pennsylvania
Engler's Auto Parts
Nuangola, PA
570-868-3990

This yard includes a 1958 Ranger 2dr sedan (blue and white two tone with standard 3spd trans, blue interior), and a 1959 Corsair coupe (Moonrise gray exterior with black interior). Both dataplates had been already removed by someone, without the owner's permission. The lot also features many 1940s-1960s cars.


Submitted by Mark Bohenek on February 24, 2003.

H R Fenton's Auto Salvage/Sales
265 N Good Hope Rd.
Greenville, PA 16125

This yard includes a 1959 Ranger 4-door sedan, VIN A9UF733916, very rough but all there except hooded mirror, antenna, wiper arms, hub caps and the rear axle. I could not open the hood, but 6-cyl valve cover and air cleaner are in the trunk.


Submitted by Alan Humphrey on June 18, 2002

Bonner's Junkyard
Hazelton, PA

This yard includes the following Edsels:


Submitted by Mark Bohenek on June 2, 2002.

Harry's U-Pull-It Salvage Yard
Hazelton, PA

This yard includes a 1959 Ranger 4-door sedan, VIN W9UF719093. With a 361 Super Express V8, Dual-Power 3-speed transmission, Silver vinyl/black cloth interior. Car currently has a red roof, all white body with black spear.


Submitted by K430@webtv.net on August 22, 2002.

Kress' Junkyard
Hazelton, PA

This yard includes the following Edsels:


Submitted by Mark Bohenek on June 2, 2002.

Winnick's Auto Parts
Shamokin, PA

This yard includes the 1958 Citation 4-door hardtop, VIN X8SX704970


Submitted by Mark Bohenek on November 6, 2004.
---
South Carolina
Chavis Auto
1991 Columbia Highway North
Aiken, SC 29805
www.chavisauto.com
Phone (803) 649-4564, (803) 645-2038
Fax (803) 649-4564

There are a number of restorable Edsels available -
1959 Edsel 4-door; White; 81,610 miles
1959 Edsel Station Wagon; Green
1959 Edsel Station Wagon; White; 51,999
1959 Edsel 2-door Hardtop; Red; 10,495
Please visit the "antiques" section of the Chavisauto.com web site for photos.


Submitted by Mike E Chavis, Jr. on July 2, 2002
---
Texas
CTC Auto Ranch
3077 Memory Lane
Denton, TX 76207-4919
CTCAutoRanch.com

1958 Ranger, 1958 Corsair, 1959 Ranger, 1959 Corsair. Pretty picked over but still have many engine parts, misc items and lots of trim in good shape.


Submitted by Andy Peters on April 7, 2002
Updated/confirmed by Dave Nixon in December 2003.

County Line Classics
902 North I-35
Red Oak, TX, 75154
972-223-3200 or 972-617-3200
oldcarpart@aol.com They have one 1958 and two 1959's.


Submitted by Spencer J. on April 15, 2004

John's Auto Salvage
Seguin, TX
1-830-379-2092

John's has bunches of cool stuff - never gets rid of anything it seems. I haven't been there in a while, but they had four 1958s. I didn't see any 59's or 60's.
Worth the trip just to get away.


Submitted by Mike Allmon on March 31, 2002

Sargent's Auto Salvage
4729 Mansfield Hwy
Fort Worth, TX
817-536-5811

Two Edsels sitting in weeds. One has no VIN number, a 1958 Edsel Pacer 4dr sedan. It's Pale Turquoise body with Pale Green or Dark Teal Green, and Aqua interior. We took the plastic seat skirts, hood ornament, a few minor trim parts. It's missing hood and trunk lid, everything else is there. We couldn't get the clips out of window and door handles to save the door panels. This auto is worth someone saving it.
There is also a 1959 Edsel Ranger 4dr, with a red body and black roof, but someone has cut a whole in it to pull back for some reason, heaven knows I couldn't see why. The Edsel has no windows in it any more. Good front and back end, dash/instrument panel in awesome shape, all 4 doors in good shape, lots of trim, one tailight lamp, all front lamps, grill, you name it. From what I saw out at this yard, he is crushing rows of cars to make room for more.


Submitted by Paula Wood on November 16, 2003
---
Wisconsin
B.C. Wheels
State Road 22 North
Wyocena, WI


Four Edsels:
1960 Ranger 4-door sedan in very good running condition, for $5,450.
1959 Corsair sedan parts car or gutsy project, for $950
1958 Bermuda very rough parts car
1958 Pacer 2-door hardtop project car with a rebuilt engine, for $3,500


Submitted by Andy Peters on March 8, 2002

C.L. Chase Auto Salvage
Camp Douglas, WI


Several Edsels:
1958 Citation, VIN X8SX704569, picked over parts car
1959 Ranger, VIN C9UG702460, a complete car way in the back. It's probably been there a while.
1959 Villager, VIN B9UV706819, under a pile of aluminum and appliances.



Submitted by Matt McLaughlin at edsel95@hotmail.com on February 22, 2002

Jack's Auto Ranch
N6848 N Island View Rd
Watertown, WI 53094
Phone (920) 699-2521
Fax (920) 699-2985
Email jacksautoranch@gdinet.com

Jack's Auto Ranch in southern Wisconsin has a lot of Edsels including at least two 1960's. For more information go to JacksAutoRanch.com. Directions to the yard can be obtained there, as well as a virtual tour of the yard. Happy hunting!


Submitted by Rick at rln31455@yahoo.com on December 27, 2001

Kirchhayn Auto North
West 4726 Highway A
Fredonia, WI 53021
Phone (262) 692-2447 or (800) 680-2886


The yard is located north of Milwaukee, WI, near Port Washington, WI. There were a couple '58s at least one '59 and I don't recall seeing any 60s but that doesn't mean there aren't any there!


Submitted by Rick at Eli Collins on October 16, 2003

Seward's Salvage Milton, WI


Edsel parts cars presently in the yard:
VIN X8SX705112 57A XEA E 27H 4 A, Corsair 4-door hardtop
VIN A9UF722749 58D BE1 50 26A 3 2, Ranger 4-door



Submitted by Michael Timothy on November 16, 2003

Stevens Auto Wrecking
Grand Marsh, WI


There's a picked-over 1958 Ranger in the yard, VIN W8UF704618, for sale for $200.
The owner is planning to crush the entire yard in 2003.


Submitted by Matt McLaughlin at edsel95@hotmail.com on February 22, 2002
---