RESURRECTED EDSELS
Need some inspiration for your on-going Edsel project car? Here you will find examples of cars that came back from the brink of extinction, with a lot of hard work and dedication.
---
DOCUMENTED RECOVERIES
How these Edsel restorers have time to rebuild their cars AND keep us up-to-date
on their progress online is astounding. Check out these active progress blogs -


Ed's 1958 Edsel Pacer 2-door Hardtop Restoration
I decided to create this site not only so that my friends can watch my progress, but also to provide a source of information for others who are restoring their Edsels.


Willie's Repair Blog
October 2007 Update: "We jumped a big hurdle and plan on a May '08 finish date!"
See new photos and find out more about BJ Ruland's Pacer 4-door restoration on his weblog, started in September 2005.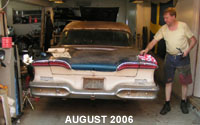 Krister's 1958 Pacer in Sweden
This 1958 Pacer with an E-400 and manual gearbox with overdrive is owned by a "V8 freak".
The engine is the next step in the car's restoration.
---
BEFORE AND AFTER PHOTOS
Hopefully these images and stories will challenge us to never give up on our Edsel's restoration! And if you have some BEFORE and AFTER photos of your own Edsel's resurrection to share with those in need, please contact admin@edsel.com to be included.

1958 Citation Hardtop
Quick recovery


Dan King was able to turn his project car into a show piece in just about exactly two years!

---
1958 Citation Convertible
Recovering a previous "restoration"


This Edsel was advertized as an "Off-frame restoration that was not completed". By all appearances, this meant the paint and chrome needed to be finished off. But as its new owner Curt Van Hoesen quickly found out, looks can be deceiving.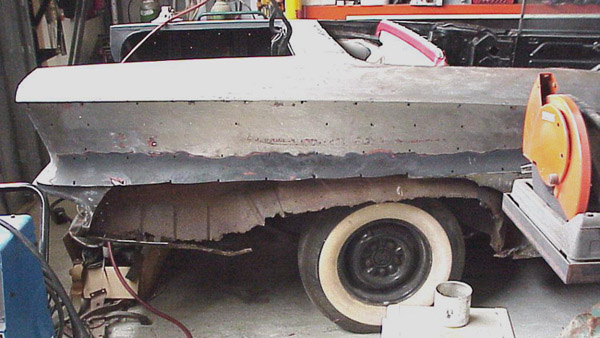 Under that primer was quite a bit of decay.
Curt had to "re-restore" the sheet metal, and sent a recent photo of how it looks today: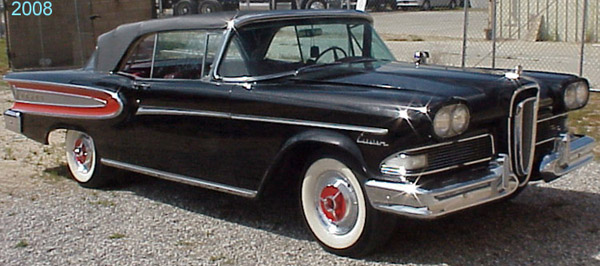 ---
1960 Ranger 2-door hardtop
Back together and better than ever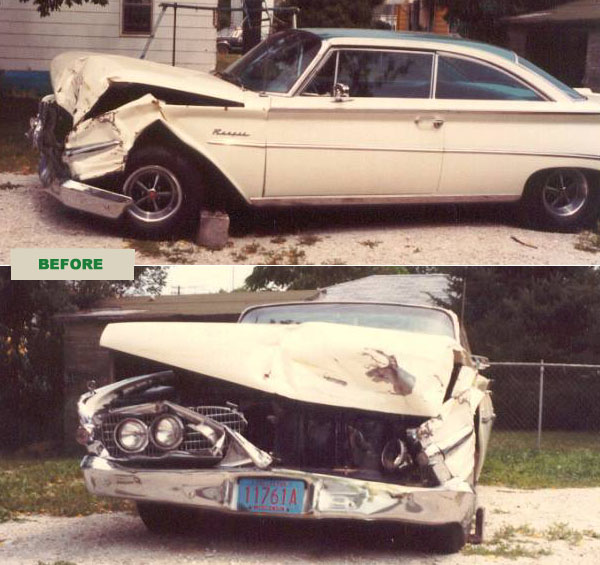 This Edsel, owned by Dave Hooten, was wrecked in 1982 when a 17-year-old ran a stop sign and was T-boned by the Ranger hardtop. The car that was hit was a 1973 Olds Custom Cruiser!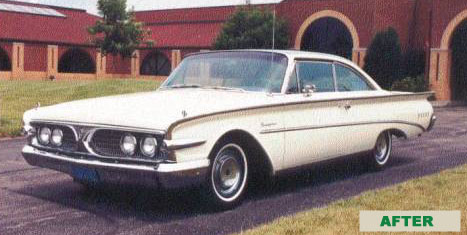 According to Dave, in July 2002: "I rebuilt it and still drive it!"
---
BLOGS OF THE PAST


One Dollar Edsel
Southlander Mike Frankovich found an Edsel for sale here at Edsel.com for $1, and brought it back to its former glory, in seemingly no time at all.
(Photos and recovery log were formerly at www.edsel.org/project.html)


John Schulz: Diary of a 1958 Edsel Citation Convertible Restoration
Share my experiences of acquiring new parts and frustrations as the car continues on its route to newness.
(Formerly at www.eskimo.com/~ouija/edsel_main.htm)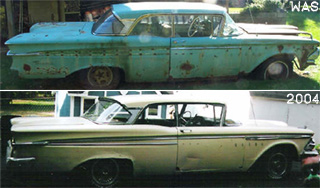 Dave Harris Breathes Life Back into a 1959 Ranger 2-door Hardtop
Join this dedicated Edsel restorer as he chronicles his Canadian Edsel's road back to, well, the road!
(Formerly at groups.msn.com/58-59EdselGroup/_whatsnew.msnw)