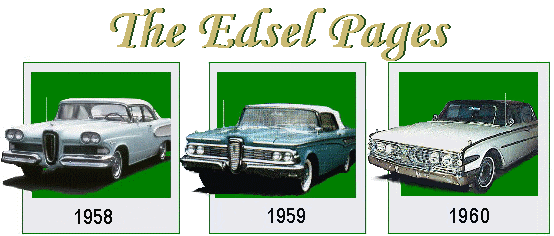 Edsels For Sale (Pre-2006)
---
When Edsel owners have to part with their cars, they generally want them to go
to a good home. And who better to take care of their Edsel than another Edsel
enthusist! Here's a place to post your Edsel for sale, free of charge, with a
better chance that in it's next home it'll be treated like the classic car it is.

All prices are in US dollars unless otherwise stated.

Clicking on this icon will display a picture of the Edsel, if there is one available. "OBO" next to a price indicates the seller will consider reasonable offers.
Parts and Parts Cars are posted to the Edsel Parts Available page.
To submit your Edsel ad, please review the Submissions Guidelines page.
SCAM ALERT
Sellers: Please be aware of a known check cashing scam that is frequently perpetrated on classic car sales! Visit the Scam Alert Page for details.

For a list of commonly used phrases that may help identify Scam Email, click here.
The administration and supporting services of Edsel.com are not responsible for any misrepresentations or inaccuracies in the posted ads, and do not in any way endorse or validate the reputation of the seller. Your Edsel webmaster has reprinted quotes, prices and descriptions from electronic mail received. The buyer is strongly encouraged to personally insure that the condition of the vehicle is as stated, prior to purchase.

---
<!- £ GBP English Pounds (Currency converter at www.astroline.com/security/conversion.html --> 195: Posted on December 30, 2005

Year: 1958

HELP! Rescue two 1958 Edsels before my boss sends them to the crusher. These are both 4-door cars. One is a Ranger and the other one is a Pacer. One is a bit rough, and the other one is almost decent. One is a body only, but the other one still has the V-8 engine and transmission. We do not know the condition of either.

Grab it all for $1,200. The cars are in central Texas near Brownwood. The owner is Hollis Rose.&nsbp; He does not use e-mail. We are both gone trucking most of the time, so the best way to contact him would be by phone at 325-641-1585. If Hollis is not available, leave your message with Ken.

Model:
Ranger & Pacer


Body Style:
4-doors


VIN:



Location:
Texas


Price: $1,200

194: Posted on November 25, 2005

Year: 1959

This sale is for two cars. Firstly, I have a partially restored Edsel convertible, and secondly I am including a rust free Edsel Western body tub for body parts.

Almost everything needed to finish her is here. Included are lots of expensive re-chromed parts including the two front bumpers, front headlight housings (one has an imperfection in the housing), and the rear bumper (The bumpers are very well done and certainly show quality). Most of the trim is with the car and in very nice shape. I have pictures of the trim next to the car to give you an idea. The horse collar looks very nice but is cracked. A new-in-the-box white convertible top is included with this car. (If you need a convertible top for a 59 Edsel or compatible car, I have an extra white one for sale.)
The motor turns over 360 degrees with difficulty indicating that she is nice and tight and typical of a high compression motor or a rebuilt motor. I was told this is a 303-horsepower 361 cid, but I donít know for sure. (If you know how to tell a 361 cid from other Ford models please let me know.) I was also told it is rebuilt but I donít have any paperwork to verify that. I don't want to start the car because it has sat for 25 years like this and I am afraid I'll damage the transmission (OK, a local tranny guru in my town says I should remove the trans and roll it on its sides and top to re-lube the upper seals before starting the motor. If you know better Iíd be glad to hear your opinion on the topic of starting a motor after the trans hasnít been used in more than two years. The trany guy says a transmission may sit and get dried out on the upper seals so that when the motor spins up these seals may get damaged and then in a short time the trany may go out.)
The radiator has been redone as well as the gas tank. I absolutely believe the motor is fine and will run with some attention. No oils were used to free it up or anything like that. The interior is all there, like seats and door panels, and they are in surprisingly condition. Some dimples exist in the upholstery from parts lying in the car but they should shrink out of the material when exposed to some nice hot sunlight. The rear seat has a bad spot but is hard to notice. I owned the car a long time before I even saw the imperfection in the seat. The upholstery is kind of dirty but should clean up really nice. The convertible top frame and hydraulics are intact. The header bow is quite nice and the chrome accent on the top of the header bow is terrific. The floors and rockers are great, as they have been worked on in the early stages of restoration. As you can see the trunk floor is out of the car, but no matter, as I am including an entire western 59 Edsel tub to fix this problem. The tub is utterly rust free except for some little holes in the trunk floor. You have the choice of a complete re-body or just filling in the missing trunk and quarters. The frame is crusty but absolutely solid. The car rolls easily. In spite of the dismantled appearance of this car I think it will go together nicely. Please feel free to call and make an offer.

Contact Eric at 920-205-0013, pls_eric@yahoo.com or cadillac_cow@yahoo.com

(Please see my other Edsel ad, #193, below.)

Model:
Corsair


Body Style:
Convertible
with Parts Car


VIN:
W9UR702152
76E DD 42 14K 4 5


Location:
Wisconsin


Price: Best Offer

193: Posted on November 12, 2005

Year: 1959

For starters this is a low miles car with around 50,000 current and total miles. The car has had extensive restoration done to her. I have pictures of the body off restoration in progress. She runs, drives, handles and brakes excellent. There is no active body rust or bubbling paint anywhere on this machine. When the car was restored, any rust was eliminated and new metal was installed. The restoration went on many years as a side project and a labor of love. In the end a few things were never completed. Firstly the new paint needs a good buff job, next the driver window is cracked, and finally the bumpers need to be rechromed. The bumpers are straight and ready to go to the re-chromer. I am pricing this car at for a quick sale.

Contact Eric at 920-205-0013.

(Please see my other Edsel ad, #194, above.)

Model:
Ranger


Body Style:
2-door sedan


VIN:
C9UC730101
64C AA 25 19C 3


Location:
Wisconsin


Price: $2,500

192: Posted on November 12, 2005

Year: 1958

92,623.9 miles, runs and drives but rough. One cracked side glass, interior rough but original. has all 4 of the 15 in. wheel covers with spinners.

Contact Paul Whitted at wildman@sktc.net or call 620-394-2571

Model:
Pacer


Body Style:
4-door sedan


VIN:
W8UF726507
58B NMM D 23A 4 A


Location:
Kansas


Price: $3,000 OBO

191: Posted on November 12, 2005

Year: 1959

Restorable 1959 Ranger located in Spring Lake, NC. This car has been sitting for 15 years outside, and has not been run in that time. The body is in decent condition, with surface rust. There is no horrible rot-through anywhere - just surface rust, but it has absolutely no accident damage. The stainless is good and complete, except for front hood chrome. The chrome is pitted, but presentable with chrome polish. All glass is original factory FoMoCo with no cracks, but the rear windshield has been smashed out. The engine still turns over, it just needs work. This car is not badly gone. The car has dual mirrors and a factory radio, but the antenna has been broken off. The interior is rough.&nbsp The front seat could be saved while the back seat needs to be completely replaced because of the smashed window.
Please give this Edsel a new loving home! It needs to be saved as it will just continue to weather inside and out if it stays there!

Contact Al Vizachero at 1700 Little River Road, Spring Lake, NC or phone at (910) 497-1835. It's the massive Volkswagen Repair Shop behind the Kangaroo in the Fort Bragg area.

Model:
Ranger


Body Style:
4-door hardtop


VIN:



Location:
North Carolina


Price: $1,000

190: (1958 Citation 4-door hardtop, Washington) Removed August 5, 2006
189: (1959 Ranger Convertible, Sweden) Removed on November 12, 2005
188: Posted on October 29, 2005

Year: 1958

Car is complete but the engine is blown and locked up. It was a V-8, and has the push-button transmision in the steering wheel. Tranny and rear end should be good, windshield is broken.

I would sell the whole car for $950, or let me know what parts you want and I can price them seperately. I have the clear title for the car. It is located near St. Louis, MO

Phone 573-237-6600 or e-mail Louis Klingert at lklinger@marisnet.com for any questions.

Model:
Pacer


Body Style:
4-door sedan


VIN:
W8RF701265


Location:
Missouri


Price: $950

187: (1958 Citation convertible, California) Removed on May 21, 2006
186: (1958 Ranger/Pacer, Ontario) Removed on December 12, 2006
185: Posted on October 15, 2005

Year: 1960

This 1960 Edsel convertible is complete and all original, and has been sitting for what appears to be at least 20 years. It is almost rust free, and needs a total restoration.
It's white with a turquoise interior. I am accepting offers on the price. I purchased this car from a local wrecking yard, so it will have a salvaged title. Glass is good and chrome is complete and straight. Engine is complete and still has the original spark plug wires on it. Odometer reads 14993.

I am in Los Angeles, and I can be reached at (310)779-3352 or emailed at

Model:
Ranger


Body Style:
Convertible


VIN:
OU15W700171


Location:
California


Price: Best Offer

184: Posted on October 9, 2005

Year: 1958

Yellow and grey, E-400 engine, Teletouch Automatic. 65,730 original miles. Same owner now for over 40 years. Has been in shed at all times. Runs good. Very, very little rust. Good tires. This car has never been restored.

This car is located in Hutchinson, Kansas, which is 55 miles northwest of Wichita. Contact Leonard Sinclair at 620-663-2608 home or 620-694-7368 cell.

Model:
Pacer


Body Style:
2-door hardtop


VIN:



Location:
Kansas


Price: $8,500

183: Posted on October 8, 2005

Year: 1959

Two 1959 Edsels. Both are Located in Brook Park, Ohio (near Cleveland) - a black 1959 Edsel Ranger 4-door sedan and a cream 1959 Edsel Corsair 4-door sedan.
Will be sold individually (or together for a deal, make an offer)

The Black Rangerís VIN is C9UF717049. It is in restorable original condition, and is a complete car. 292 cu 3-speed on the column, all engine components are present, engine turns over but wont start (itís not getting any spark, and may need points and condenser). All trim is present. All lenses and lights are present and all windows are nice and roll up an down. The interior needs cleaned but is decent, front seat has a rip in it. The door panels are nice, and headliner has a couple holes but not too bad. Floor pans seems solid as does the frame, not rust through on body, but it has a lot of surface rust and scratches. I also noticed someone used bondo to fill some trouble areas in the trunk floor and rear portion of the rockers. Other than that body seems to be pretty solid. It would be a nice driver with some engine work and paint. Iím asking $2900 for it.

The Cream Corsair's VIN is B9US743261. It is in good original shape, and is a complete car. 361 cu automatic, all engine components are present, engine turns over but also won't start. The interior is original and very nice and clean, seats are nice, the door panels are nice and clean, and headliner is very nice, still looks new. Floor pans seem solid as does the frame, body seems and looks solid. Itís a decent driver right now. With a coat of paint and little motor work it would be very sharp. Iím asking $3800 for it.

For more pics or questions e-mail Dennis@imitalent.com or call 216-267-5472 8am-7pm (Ohio time). If Iím not in leave me a message and Iíll get right back with you.

Model:
Ranger/Corsair


Body Style:
4-door sedans


VIN:
C9UF717049
B9US743261


Location:
Ohio


Price: $2,900
$3,800

182: Posted on October 8, 2005

Year: 1959

Pink 2-door; automatic transmission; V-8 engine, 98,778 miles. Needs radiator and minor front body work; excellent interior.

Must take parts car Ė VIN C9UG710620, Turquoise; 85,733 miles, Clean DMV titles.

Contact Erica Fernandez in Castroville CA. Please call and leave a message at (831) 633-3794

(Please see my other Edsel ad, below.)

Model:
Ranger


Body Style:
2-door hardtop
w/Parts Car


VIN:
C9UG730025


Location:
California


Price: $3,600 OBO

181: Posted on October 8, 2005

Year: 1958

White, automatic transmission, V-8 engine with 90,774 miles.
Project car, parked for years. Clean DMV title

Contact Erica Fernandez in Castroville CA. Please call and leave a message at (831) 633-3794

(Please see my other Edsel ad, above.)

Model:
Ranger


Body Style:
2-door sedan


VIN:
W8RC705523


Location:
California


Price: $1,500 OBO

180: Posted on October 8, 2005

Year: 1959

292 V8, body is in good shape with very little surface rust under car, rides very nice.

NJ title. Nice old car, located in Brown Mills, NJ.
Call anytime, 848-448-3112. Come check it out. georgeduz@yahoo.com.

Model:
Ranger


Body Style:
2-door sedan


VIN:
C9UC732682


Location:
New Jersey


Price: $3,500

179: (1958 Bermuda 9-passenger wagon, California) Removed on December 13, 2005
178: (1958 Ranger 2-door hardtop, Connecticut) Removed on March 22, 2006
177: Posted on August 16, 2005

Year: 1959

It has 58,00 original miles on a 292 V8 2-bbl. It has a standard transmission on the column. This car came from Mexico originally. It is a beautiful black on the outside. It is rustfree. It has been converted to an electronic ignition and burns unleaded gas.

My name is Richard Holland, 7701 New Jersey St., Hammond, Indiana 46323,219-844-5986.
The car is located at this address which is only about 30 miles from Chicago in NW Indiana. I am only 5 mins from the Borman expressway.

Model:
Ranger


Body Style:
4-door


VIN:



Location:
Indiana


Price: $4,500 OBO

176: (Two 1960 Rangers, Virginia) Removed on October 8, 2005
175: (1959 Ranger, South Carolina) Removed on May 12, 2006
174: Updated on October 8, 2005 (Posted on August 9, 2005)

Year: 1960

PRICE REDUCED


53,000 original miles. High-quality restoration completed approx. 2 years ago. Car was originally Desert Tan with brown standard interior, and is now authentic Cadet Blue with SMS blue vinyl and black pebble cloth interior. Seats, headliner and carpet are new, with re-conditioned original door panels and near-perfect package shelf. New glass, window channels and weatherstripping were installed. The dash and all interior metal pieces were removed and painted. All exterior brightwork was removed and polished, outstanding chrome on grille, bumpers, tail lights, etc. New trunk floor was welded in, and a small amount of body rust was replaced with patch panels (no bondo anywhere on the car). The paint was wet-sanded/buffed and is outstanding.

Drivetrain is the original 292 w/2-speed auto. Many mechanical repairs/upgrades were made to make this a reliable driver. Everything works, incl. radio and clock. Just a few detalis remain to make this car outstanding in every area. Fender skirts included - painted and ready to install.

Contact John Matcovich in Portland, OR, at (503) 245-0857 or email

Model:
Ranger


Body Style:
4-door sedan


VIN:
OU12W700751
58A N 24 25J 3 3


Location:
Oregon


Price: $9,800

Year: 1958

Original paint and interior, E-400 V8 motor. The body is in great shape with no rust. Chrome, wheels, interior are all in good shape. It was a parade car and used in car shows and has won trophies.

Dual fan system. Driver's side window has a crack. Has the original owner's manual and info on parades the car was in. The car has always been stored in the garage.
I'm selling the car for my grandmother, who is no longer able to drive. Feel free to contact me any time at or give me a call 313-999-0934 ask for Mason. I have more pics if needed.

Model:
Ranger


Body Style:
2-door sedan


VIN:



Location:
Michigan


Price: $10,000 OBO

172: Posted on August 5, 2005

Year: 1958

Was operational in 1989 when stored in a barn in the Quad cities area before accepting a job overseas for 15 years. Vandals smashed all windows, took out radio, broke headlamps. Barn is now slated for demolition. Car must be removed ASAP. Photos are available.

Please contact: or call (585)436-9604 immediately. I would hate for this car to be destroyed.
I have keys and title in NY.

Model:
Ranger


Body Style:
4-door sedan


VIN:
958AK58103084


Location:
New York


Price: FREE

171: (1958 Roundup wagon, New Jersey) Removed on October 9, 2005
Year: 1959

This is a restored 1959 Edsel Corsair Convertable. Original color Jet Stream Blue, engine painted original colors, change the black interior dash and ganish moldings to Wimbledon white.
New: Corsair emblems, Edsel letters, fender emblems, exterior door handles, all the rubber including the roof rail seals, door panels SMS original design, seats SMS original design material, carpet, convertible top and back window well, glass (doors, wings, windshield), turn signal cam ($225), heater core, spinners and appliques, and other misc.
Rechromed: Bumpers, Edsel trunk emblem and hooded fender mirror.
Rebuilt: Brakes, tranny, engine 361 (later model hardened valve guide heads), radiator, gas tank removed and cleaned.
Painted: Exterior, acrylic enamel with a 2000 gloss kit, epoxy primer, interior, trunk with Hammerite, undercarriage with either paint or undercoating, engine with enamel and floors with Hammerite.

Runs and drives very nicely. Idle is a little rough, Holley carb has set awhile and probably should be rebuilt. Drives down the highway smoothly and strong. Did not rechrome the grill, tail light housings or wing window frames. Nice, but needs it for 95 to 100 point car.
Concerns: gas gage is intermitent. I am checking it now. Idle, either carb or vacuum line under dash. I am checking that now. I am missing one molding piece that holds the right sunvisor. I am checking on that now, too.

Some extra parts go with it. Car is located in Howe, TX, 50 miles north of Dallas. Good title.

Contact Jim Terflinger at 903-632-5430. Asking $23,000. Trades considered, especially '51 Vicky, '56 Monclair 2-dr htp, or '59 Ford Retractable.
Thanks in advance for your consideration.

Model:
Corsair


Body Style:
Convertible


VIN:



Location:
Texas


Price: $23,000

169: Posted on July 25, 2005

Year: 1959

This Edsel has had outdoor exposure, but has no dents and is mechanically intact. Either a restoration project or a source for authentic parts.

Contact: Reuben Niemisto at or call 906-353-6329. Car is located on the Upper Peninsula of Michigan.
Buyer arranges transport.

Model:
Ranger


Body Style:
4-door sedan


VIN:
C9UF719069


Location:
Michigan


Price: Best Offer

168: (1958 Pacer 4-door sedan, Michigan) Removed on September 1, 2005
167: (1959 Villager wagon, Wisconsin) Removed on May 27, 2007
166: (1958 Ranger 2-door sedan, Florida) Removed on November 25, 2005
165: Posted on July 8, 2005

Year: 1959

My name is Ken Ballard and I have a 1959 Edsel Corsair for sale in excellent condition. Fresh paint and new interior. 292 motor in original condition runs great. New brakes and tires all around. Yellow wth white 2-tone outside, yellow and black vinyl 2-tone interior. All glass intact in good condition.

Located in Summerville, SC. Phone 843-871-2293 or e-mail


Model:
Corsair


Body Style:
2-door hardtop


VIN:
B9UW726877


Location:
South Carolina


Price: $25,000 OBO

164: (1959 Ranger 2-door sedan, South Carolina) Removed on June 24, 2005 (Retooled as #175)
163: (1959 Ranger 4-door sedan, Michigan) Removed on July 12, 2005
162: Posted on May 21, 2005

Year: 1958

Black and white. Body rugged. Interior okay. E475 engine locked, does not run. I was told it was an old police car!

Can be used for parts or it's possible to restore this vehicle. Has not been on the road since 1968. We have the title!

Car is located 20 miles south of Dallas, Texas. You can reach us at 972-617-0216 after 4 weekdays and anytime weekends, or email


Model:
Corsair


Body Style:
4-door


VIN:



Location:
Texas


Price: $750 OBO

161: (1958 Pacer Convertible, Missouri) Removed on July 12, 2005
160: Posted on May 6, 2005

Year: 1959

28,000 actual miles. Stored for over 20 years, very nice inside. All glass good, no damaging rust. Complete car, needs restoration.

Contact Don Hoover at 502-538-9619 or email

Model:
Ranger


Body Style:
2-door


VIN:



Location:
Kentucky


Price: $2,500 OBO

159: (1958 Citation Convertible, Massachusetts) Removed on June 20, 2005
158: (1959 Corsair Convertible, Wisconsin) Removed on May 20, 2006
157: (1959 Corsair 4-door sedan, Kentucky) Removed on July 15, 2006
156: (1959 Ranger 2-door, California) Removed on August 13, 2005
155: (1959 Villager 6-pass, California) Removed on January 29, 2006
154: (1958 Citation 4-door hardtop, Pennsylvania) Removed on May 6, 2005
153: (1958 Pacer 4-door sedan, North Carolina) Removed on July 12, 2005
152: (1959 Villager 6p, North Carolina) Removed on May 15, 2005
151: (1958 Ranger 4d sedan, California) Removed on February 26, 2006
150: (1958 Ranger 2d sedan, California) Removed on April 3, 2005
149: (1959 Villager 6p wagon, California) Removed on October 29, 2005
148: (1958 Ranger 2d HT, Oregon) Removed on March 14, 2005
147: Combined with Ad 031 to become Ad 152 on March 14, 2005
146: (1958 Pacer Convertible, Reno, NV) Removed on February 3, 2005
145: Posted on January 7, 2005

Year: 1958

Has new electronic ignition and new Holley 4 bbl carb. Car is in very good condition from a prior restoration. Minor transmission leak, havenít had a chance to locate.
BODY: No dents or dings
PAINT: Older repaint job, overall good Ė no rust
CHROME: Recently re-chromed the hooded side view mirrors, side body chrome is excellent. Chrome decorations on lower sides of the roof need restoration. Bumpers are in decent condition with a small area on the rear bumper where it appears someone tried to pull the car by hooking something to it. Driver side front bumper has some peeling on the underside.
GLASS: All glass is complete Ė passenger side front door window has small crack in upper front
INTERIOR: Prior re-upholster Ė still nice, no front seat kick panels, but I have templates cut out for covering
MISC: Teletouch transmission works well, power steering, power brakes, 361 CID E-400 engine, 50K+ unverified mileage on odometer, radio works on one station.
Extra horn ring and push button panel included as well as several Edsel specific repair manuals.

E-Mail only at

Model:
Pacer


Body Style:
4-door hardtop


VIN:
W8EH703244


Location:
Florida


Price: $6,250

144: Posted on January 7, 2005

Year: 1959

Green on Green, very nice car. Drive or show.

Email Pics at www.JakesGeneralStore.com

(Please see my other Edsel ad, below.)

Model:
Ranger


Body Style:
4-door hardtop


VIN:



Location:
Minneosta


Price: $8,500

143: Posted on January 7, 2005

Year: 1958

Brown Edsel Pacer, E-400, Teletouch automatic, 28,000 actual miles.
Has been repainted, however cannot duplicate the condition of this car. It is all original.
Second owner. Same owner for 27 years. Always kept in heated storage.

Email Pics at www.JakesGeneralStore.com

(Please see my other Edsel ad, above.)

Model:
Pacer


Body Style:
4-door hardtop


VIN:



Location:
Minneosta


Price: $15,000

---