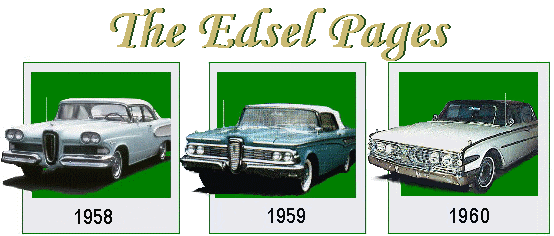 EDSEL DIVISION ORGANIZATION
---
If you have information about the organization
within the Edsel Division during the 1950s,
please don't hesitate to contact admin@edsel.com. Thanks!
---
The Edsel Division Organization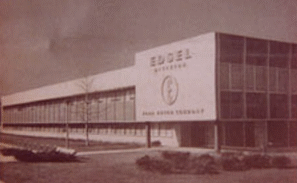 Edsel Division Headquarters
Ecorse Township, Michigan

---
Management
Ernest Breech
Ford Chief Executive Officer
Robert MacNamara
Vice President, Vehicle Operations
Lewis Crusoe
Vice President, Vehicle Operations
---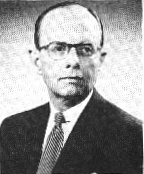 Richard E. Krafve
Vice President, Ford Motor Company
General Manager, Edsel Division


Mr. Krafve was in charge of the Edsel program from its inception in early 1955. At that time he was named General Manager of the Special Products Division, which later became Edsel Division.
He was formerly Assistant General Manager of the Lincoln-Mercury Division. Prior to that, he was Director of the Ford's Office of Defense Products, where he coordinated all phases of defense production assignments.
Mr. Krafve came to Ford Motor Company in 1947 as Assistant to the Vice President of Purchasing. Later, as the Assistant to the Vice President of Manufacturing, he helped develop the new Ford production organization, including the expansion and decentralization of company-wide manufacturing operations.
---
Design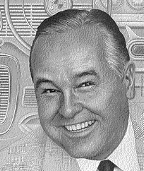 George Walker
Ford Corporate Design Chief

Roy Brown, Jr
Chief Stylist
Bob "Robin" Jones
Assistant Stylist
Supervisor - Exterior Design E-F
Manager
Don Danaski
Designer
(Wheel cover spinner, rear bumper)
Jim Sipple
Designer
(Horsecollar opening)
Ken Spenser
Designer
(1959 Rear bumper)
Elwood Engle
Designer
(Bermuda trim ornament placement)
Ken Pheasant
Designer
(Nameplate scripts & lettering)
Holden Koto
Designer
Supervisor - Exterior Design E-M
Ray Slate
Designer
Rod Smith
Designer - E-M
(Back-up lights)
Dick Kimball
Planner
(Wheel cover spinner backplate)
Michael Nowicki
Master Modeler
Norman Nebozenko
Modeler
Marty Hrbal
Modeler
(Hooded mirror)
---
Sales and Marketing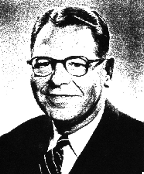 J. C. (Larry) Doyle
General Sales and Marketing Manager
Edsel Division


Mr. Doyle spent more than 40 years at Ford Motor Company. His career encompassed every important Ford milestone in that time, from the legendary Model T right up through launching the Edsel. He started as an office oy in 1916 in Kansas City. Later, he carried out various sales assignments in St. Paul, Chester, PA and Houston. In 1939, he went to St. Louis as District Manager.
In 1945, he was assigned as Ford Division's Dearborn District Manager. Two years later, he became Central Regional Manager in Detroit. Then, in June 1952, he was named Sales and Advertising Manager for all Ford Motor Company divisions. He held this position until his appointment to the Edsel Division in May, 1955.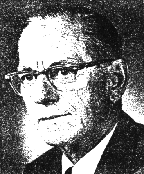 Norman K. VanDerzee
Assistant General Sales Manager
Edsel Division
Mr. VanDerzee joined the Edsel Division in September 1956, after extensive experience in all phases of the automobile business. The majority of those years he spent with Hudson Motor Car Company, rising through the company to the position of Sales Vice President in 1949. When Hudson became a part of American Motors, Mr. VanDerzee stayed on as Vice President for more than a year before joining with the Edsel Division.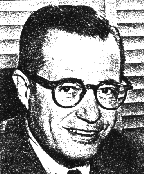 R. F. G. Copeland
Assistant General Sales Manager
Edsel Division
Mr. Copeland joined Ford Motor Company in 1948 to direct advertising and sales promotion for the Lincoln-Mercury Division, following many years of editorial and advertising experience. Just prior to joining the Edsel Division on January 1, 1956, he served as Director of Product Advertising and Sales Promotion for the Ford Motor Company. His first association with the automobile industry was as automotive editor of the Chicago Herald-Examiner in 1927.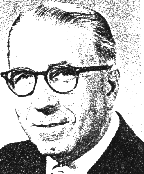 R. J. McGovern
Executive Assistant to the General Sales and Marketing Manager
Edsel Division
Mr. McGovern joined the Edsel Division in early 1957 after more than twenty years in the automobile business. A Zone Manager for Buick from 1939-49, he established his own dealership in Richmond, Virginia and operated it until 1954. In that year, he joined Chrysler Corporation and was assigned to the executive sales staff in Detroit. In 1955, he was named Director of Markets for Chrysler Corporation.
---
Edsel District Sales Offices

There were 24 Edsel District Sales Offices in the United States, divided into five Regional areas.

Eastern Sales Region
John F. Connors, Jr.
Eastern Regional Manager
Newark, New Jersey


Malcolm R. Fuller
Boston District Manager
Needham Heights, Massachusetts


C. F. Sylvester
Syracuse District Manager
Syracuse, New York


Patrick A. Brescia
New York District Manager
Fort Lee, New Jersey


William J. Magarity
Philadelphia District Manager
Camden, New Jersey


Emerson Planck
Washington District Manager
Arlington, Virginia


Central Sales Region
O. L. (Luke) Wigton
Central Regional Manager
Detroit, Michigan


Harley F. Riley
Detroit District Manager
Detroit, Michigan


George F. Walters
Cleveland District Manager
Cleveland, Ohio


John H. Scharnhorst
Columbus District Manager
Columbus, Ohio


Hiller A. Pries
Indianapolis District Manager
Indianapolis, Indiana


Midwest Sales Region
C. H. (Chick) O'Donohue
Midwest Regional Manager
Chicago, Illinois


D. Edward Manning
Chicago District Manager
Chicago, Illinois


A. E. Jacobsen
St Louis District Manager
Clayton, Missouri


Chet W. Johnson
Twin Cities District Manager
Minneapolis, Minnesota


Louis A. Wehde
Des Moines District Manager
Des Moines, Iowa


Elwood S. Gross
Kansas City District Manager
Kansas City, Missouri


Southern Sales Region
George P. Montagnet
Southern Regional Manager
New Orleans, Louisiana


J. D. Flynn
Jacksonville District Manager
Jacksonville, Florida


Roy A. Blount
Atlanta District Manager
Atlanta, Georgia


Claiborne H. Weigand
New Orleans District Manager
New Orleans, Louisiana


William W. Sugg
Memphis District Manager
Memphis, Tennessee


George O. Simmons
Houston District Manager
Houston, Texas


Robert J. Sanford
Dallas District Manager
Dallas, Texas


Western Sales Region
Levitt T. (Doc) Kouns
Western Regional Manager
San Francisco, California


Harry M. Pritchard
Denver District Manager
Denver, Colorado


Paul W. Pursley
Los Angeles District Manager
Beverly Hills, California


Wallace E. Boyer
San Francisco District Manager
San Francisco, California


Richard J. Siewers
Seattle District Manager
Seattle, Washington

---
Foote, Cone & Belding
Edsel Advertising Agency
C. Gayle Warnock
Public Relations
---
By mid-January 1958, operations of the Edsel Division were combined with the Mercury and Lincoln, and renamed the M-E-L Division
Headquarters: Ford's Dearborn, Michigan facility.
Ben D. Mills
M-E-L General Manager
C.E. Bowie
General Sales Manager
L.C. Beebe
Edsel Marketing Manager
I.B. "Bud" Kaufman
Chief Stylist
Bill Wheeler
Designer
(1960 scripts & lettering)
Kenyon & Eckhardt
Edsel Advertising Agency
---
Special Thanks
Magne Teigen for the District Sales Office organization, retired Ford Design Manager Howard Payne for clarifications and missing pieces, and to Dallas Assistant District Sales Manager Tom Sneary for the list of Field Sales personnel (coming soon).
---