THE DWINDLING POPULATION
---
Dearly beloved, we are gathered here today to mourn the lost Edsels.
Those who have succumb to rust, fire, mechanical failure, and of course, the dreaded crusher.
But know in your heart of hearts, they are in a better place. A place without public ridicule.
Where the terms "Oldsmobile sucking a lemon" and "Mercury pushing a toilet"
are only distant memories.
The images in this gallery should remind us all how precious our Edsels are..

---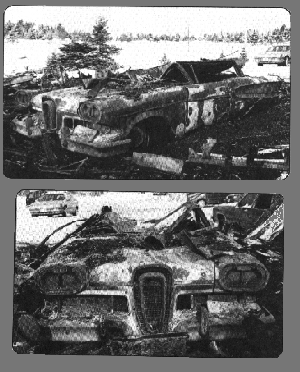 Newfoundland, Canada - January 1997

The 1995 Edsel Owners Club raffle car, a completely restored 1958 Citation 2-door hardtop was won with a one-dollar ticket by John Wheeler of Logy Bay, Newfoundland. It cost the Wheelers $3000 to get the car home from the San Ramon, California convention. But on January 12, 1997, a neighbor noticed smoke coming from the garage next to John's house. When he opened the garage door, the fire was well under way. Efforts to save the car were unsuccessful, and the Edsel was consumed in the flames. John lost five other vehicles that were parked outside near the rear of the garage. The Edsel was insured, but this car had sentimental value. Along with the entire EOC, the Wheelers were very saddened by their loss.

---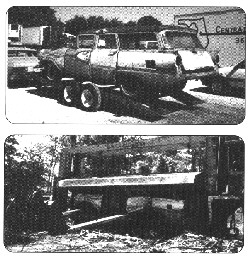 "On April 23, 1996 at 11:15 am in Orlando, Florida,
this badly rusted Edsel took its last ride so that
another Edsel could live on.
"The Bermuda's ultimate sacrifice yielded many good
parts. Even though I am restoring a Roundup, I did
save all the Bermuda fiberglas trim, scripts, and other
unique Edsel parts.
"With it gone, it won't have to live in shame and indignity
while trying to fight off the ravages of nature"
- Joe San Giorgi

---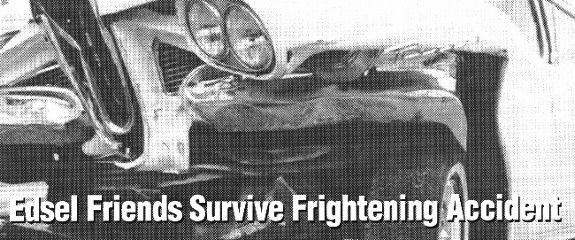 Columbus, Texas - March, 1995
Russel and Nita Reneck were less than 100 miles from home, on their way to the 7th Annual Edsels in Las Vegas event, when tragedy struck. Apparently the cruise control did not release when Russel braked, causing the Ranger to pull to the left directly into a concrete dividing wall. Both Russel and Nita suffered cuts, bruises and broken bones, but felt blessed to be alive. The Renecks said, "We will remain members of the Edsel Owners Club, and hopefully will find another Edsel to love and enjoy as much as we did the little Ranger".
- As reported in the May 1995 EOC Greenline

---
Why It's Good to Stop at Stop Signs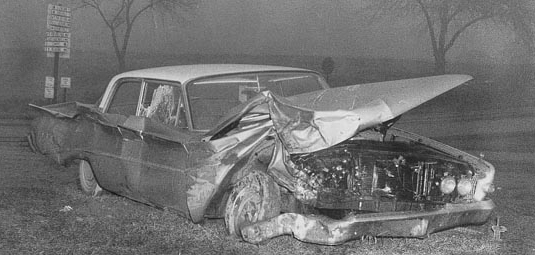 Based on the dated notes on the back of the picture, this was a nearly brand new 1960 Edsel 2-door sedan at the time of its accident. The photograph was apparently intended for newspaper publication. The back reads: "12-28-59 - Car that went through stop sign - stop sign shows to rear, Ken. 3 lots for news desk."
(Submitted by Mike Cowles)
---
Edsels versus Drunk Drivers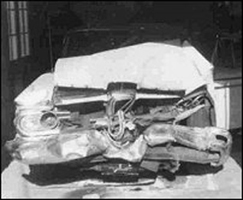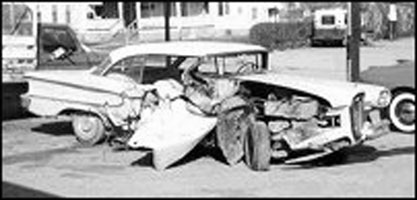 These disturbing images are from Dan Crossman's original Edsel site, and demonstrate that even when your pristine Edsel is safely parked - in no apparent danger at all - it can still end up scrap. Sometimes life just isn't fair.
---