SUPERCHARGED & CUSTOMIZED EDSELS
---
Racing Edsels
Jim Malloy and the #19


1958 Edsel Pacer #19 was raced at Colorado National Speedway in 1968. The car was well built and a strong runner, and caused quite a bit of controversy. The driver was Jim Malloy.
Thomas Ellis wrote in with the details -
"The car was built close to Holman-Moody specs, and ran with its E-475 (410) V8. (Somebody read between the lines of the engines rules.) The driver, Jim Malloy, was a talented driver who also drove midgets, Lakeside (Denver) modified stock cars, and was the CAMRA super-modified champion several times. The #19 Edsel was fast. Add a very capable driver and you've got a winning combination.
At the time the Edsel was raced in the late 1960's, Colorado National Speedway was a half mile medium-banked dirt track. It was what is called a fast track, with the faster cars clocking 19-20 seconds in the time trials, and Jim always timed in very well. All the events were with inverted starts, slowest car on the pole, fastest car last row, and most main event fields were 18-24 cars. In one main event of 50 laps, Jim lapped the field once. In two other main events Jim lapped the field twice. (That was early in the season, a full season was 24 regular race meets, which included a mid-season championship, a end of season championship). Jim had won several other main's, heat races, and trophy dashes with the Edsel, but about mid-season Jim went back to super-modified racing and the #19 Edsel was not seen again.
Jim Malloy also raced at Indy, posting his best finish in 1971. Starting 26th, Jim finished 4th in a Gurney Olsonite Eagle. In 1972, Jim had a crash while practicing at Indy, and did not regain consciousness. He died about a month after the crash."
For more on the short life of Jim Malloy, and more details on the Edsel photo,
visit the Colorado Racing Memories web site.
---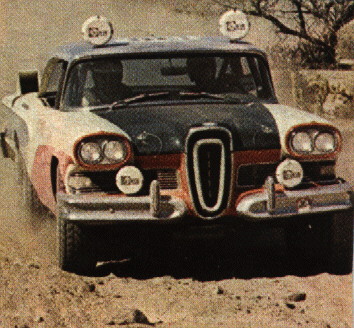 1958 Edsel Baja Racer
From Thomas Voehringer comes new information on the Off-Road Edsel:
"The red-white-blue color scheme indicates that this is the '58 Edsel used by famous Ford racer Bill Stroppe of Southern California in the Baja 1000. In Stroppe's lobby, a very small picture of this car is part of a montage of Baja images. The same paint scheme is found on their racing Broncos. I can nearly assure you the photo was from Baja, not Paris-Dakar."
The Edsel photo appeared in an old German magazine, and was submitted by Zodiak.

Click Here to view a scale model of this car, built by Dan Myers and submitted by his brother Chris.
---

"The World's Fastest
1959 Edsel"
(See an example of the car's performance here)
If you were to pull up alongside this nice little Ranger 2-door on the street, you might think it would be easy to leave this car in the dust at the next traffic light.
Think again. According to the car's owner Charlie Robinson, this is the fastest '59 Edsel on earth, and he's got the numbers to back it up!
1/4 MILE E.T.: 11.32 seconds @ 116 mph (no nitrous)





ENGINE: Edsel E-475, 12:1 compression, Schneider cam, 800cfm double pumper, MSD HS ignition, 2 Holley pumps, and home-made 2 1/8" headers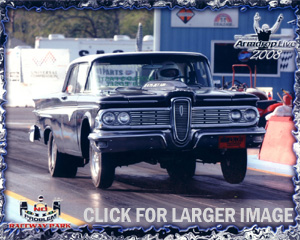 TRANSMISSION: Dr.Don C6 with 3500 stall
OTHER: 9" Ford rear end with 4.33:1 gears, home made traction devices, Olds 442 dual gate shifter, and Auto Meter tach and gauges
This Edsel has also made an appearance in the USA Network's "The Big Easy".
---
Customized for Performance
1958 Cobra Pacer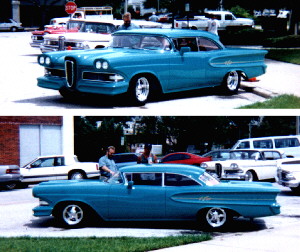 You may have seen this mean green Edsel machine appearing in custom car magazine feature articles. The bumpers are molded into the body, the top has been lowered, the interior completely restlyed with leather seats, and the only way into the car is with the remote control (no door handles). With over $100,000 invested, this car has won awards in the modified class of many Edsel club events.
(Update for 2002: This Pacer is now powered by a detailed COBRA engine. And as if that weren't enough entertainment, the dashboard sports a new DVD player.)
Owned by Jan & Frank Harris, Orchard Hill, Georgia.

---
1958 Pacer Quick-Change Cruiser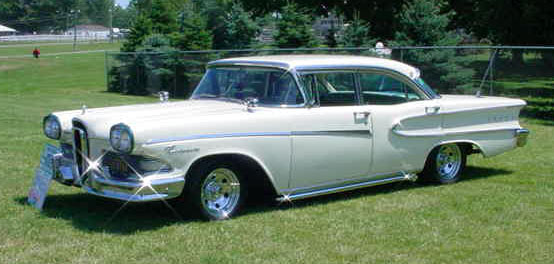 Rob Schosker of South Bend, Indiana's customized 1958 Edsel Pacer Sedan. "All modifications are done so that they can be removed and put back to original within an hour. Also, all mods were done with 1950's period custom pieces.. complete with flame thrower exhaust!"
---
1959 Corsair Hot Rod


"This 1959 Corsair was slightly modified, with the running gear out of a 1964 Ford Galaxy 500 XL, including the factory Tri-Power 390 and 4 speed. I got the car when I was 16 and did all the work myself, except the paint job was compliments of Nissan Motor Corp."
Mike Keyes, Troutdale, Oregon.
---
1959 "Sledsel"


From Mark at Spooky1959@aol.com comes this amazing creation..
"A lot of time and work has made this Edsel one of the most unique ever. It has been lowered four inches, nosed and shaved, and now sports 1959 Chevy tail lights, split rear bumper, and a rolled pan has been added to the rear. The interior features black and white naugahyde with vintage cloth interts. The car will have wide white walls with '56 Lincoln hubcaps. A 1957 Lincoln Premier steering wheel will sit atop the column. Dual antennas are on the rear quarter panels and factory skirts wrap the rear wheels of the car. The block lettering on the side of the car now spells out "S-L-E-D"!
---
"What-If" Creations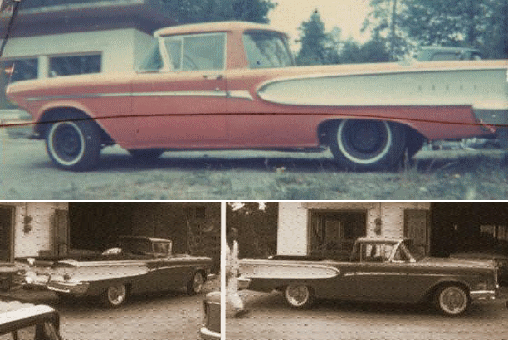 1958 "Edchero" (Edsel/Ranchero)
Pudge Wiley writes in looking for help:
"In 1963 my dad said he was going to build a pickup as soon as he got back from town. I was 16 at the time and decided to help. When he got home I had cut off the top of my mom's 1958 Edsel.. She was real p***d at me, but when we were finished, I was back in her will. This pickup was built at Wileys Body Shop in Port Orchard Washington, as I said in '63. It had a 410 4 speed with low (23000) miles, like new condition. I would love to find it. Last seen in Seattle Wa. in 1970."
If you have any info on what happened to this unique customized Edsel, please contact Pudge at pj-wiley@hotmail.com. Thanks!


---
1960 Villager 2-door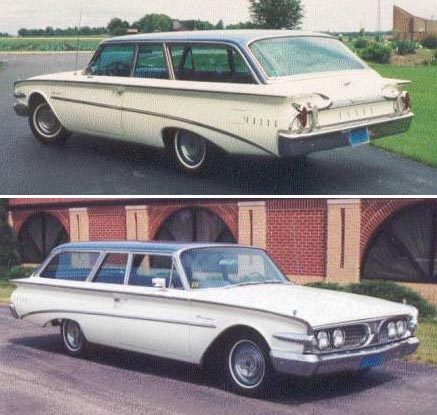 It looks so natural, you'd think that this station wagon came straight from the Louisville factory. But the Edsel Division never offered a 2-door Villager for 1960.
This customized creation belongs to David Hooten of Wisconsin. It's been shown at many IEC meets, and currently has a VIN body code of "59A" (which was used in the 1958 model year to designate a 2-door wagon).
But by the looks of this car, it should've been offered in '60, too.

---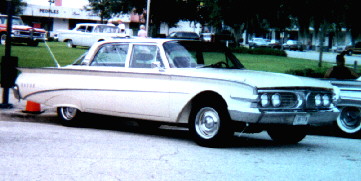 Ed & Leona Fuller unveiled this 1960 Edsel in the late 1990's. But upon closer examination, the shallow front wheel wells, side fuel-fill door and the luxurious interior hint that this is no ordinary Ranger.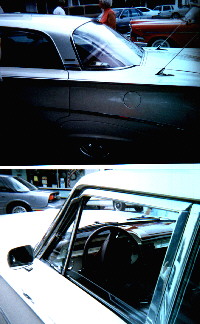 In fact, this car has the frame and 4.6 litre engine of a 1992
Lincoln Town Car, with the body of a '60 Edsel! The interior
(including the steering column) went in with little to no
modification necessary. The mid-section gas tank allows for
a deep and spacious trunk area. And with four wheel disk
brakes and ABS, the car can easily out-perform any "real" Edsel.
A little of everything went into its construction. Besides the
Lincoln, the wheels are Ford Crown Victoria with Chevrolet
rims, and the dash is custom-made all-electronic LEDs fitted
into the original 1960 speedometer frame!