<!- IMG SRC="/images/pixel.gif" WIDTH=100 HEIGHT=1 BORDER=0 ->

<!- IMG SRC="/images/pixel.gif" WIDTH=25 HEIGHT=1 BORDER=0 ->

Edsel.com: Memories of a Short-Lived Car
Reviewed October 4, 1999

ars often become famous because they are either phenomenal successes or colossal failures. The Edsel clearly falls into the latter category, being jettisoned by Ford Motor Company after just three years as a division that never came close to meeting sales goals.
While it is easy to love a winner such as the Ford Mustang, embracing a loser requires something from the heart. When it comes to the Edsel, no one gives more from the heart than Bob Ellsworth. Ellsworth, a 36-year-old software engineer from Attleboro, Mass., launched Edsel.com on Aug. 1, 1999. The Web site is dedicated to "keeping as many Edsels on the road as possible."
Similar to other sites focusing on a particular vehicle or marque, Edsel.com offers a history of the car, which was named for Edsel Ford, Henry Ford's only son. Edsel died in 1943, nearly 15 years before the vehicle arrived. The site also delves deep into service manuals for detailed Edsel specifications and parts lists, provides a spotter's guide to help fledgling Edselphiles tell a 1958 Ranger from a 1959 Citation, as well as classified ads for cars, parts and restoration services. It even has a comprehensive list of Edsel appearances in movies and television shows, from starring roles to bit parts, with some sound bites.
Ellsworth maintains the site simply as a hobby. He has written and compiled some of the material, though he credits several contributors for supplying much of the information and resources.
The "Edsel" of Discord

Discord among fans of the car brought Edsel.com into being. Ellsworth formerly was a member of the national Edsel Owners Club, and in 1997 he volunteered to create a site for the organization, which he still maintains.
Major disagreements within the Edsel Owners Club led to the departure of Ellsworth and other members. Some of them formed a new organization, The Edsel Club, which does not yet have a Web site.
Ellsworth decided to create Edsel.com as a "non-denominational site" without a political agenda. There are links to the Edsel Owners Club site, which has much of the same content, and to yet another club, the International Edsel Club. Ellsworth makes it clear his site is no part of the infighting. "I'm trying to avoid the whole (political) thing and put out the information for people to use," he says.
So while others slug it out over petty politics, Ellsworth plugs along in his spare time, helping others find the parts or services they need for their Edsels.
Rewarding Experience
"The thing that really makes it worthwhile is when someone writes back and says that because of you another Edsel is back on the road today," says Ellsworth. Several appreciative owners have written to thank him for his help getting needy Edsels running again. "That is really gratifying," he says. "As the site gets bigger and gets more hits, I hope to be able to go to suppliers and see if they want to advertise. Right now, it's all out of my own pocket," explains Ellsworth.
He has high hopes for enhancing his site with an Edsel registry that will allow owners to search a database by the vehicle manufacturing plate, now called the Vehicle Identification Number (VIN). Visitors will be able to find out when and where their car was built, the original colors and engine, how many of that particular model were built and other details car collectors crave but have trouble finding.
"I have a dream," Ellsworth says of the registry. He hopes to have the database operational early next year, including a history of previous owners for each car. He is culling information from Edsel service manuals and collecting data from owners.
While Ellsworth helps others get their Edsels running through his Web site, his own 1960 Edsel Ranger sedan remains parked, waiting for the engine and transmission to be reinstalled.
"In the last year I've spent more time on cyber Edsels than the real Edsel," he laments. However, he can't lay all the blame on his Web-site work. He bought the Edsel 10 years ago for $900, and though the engine ran at the time, a bad transmission made it undriveable.
"To this day, I have not driven it," Ellsworth confesses. "I've driven other people's Edsels, but never mine."
Ellsworth put off working on the car because his father died shortly after the Ranger was purchased. Dashing his hopes that the two restore it together, Ellsworth shelved the project for about five years. Now that he has the desire to pursue the project again — and most of the parts — it is now a matter of finding the time.
Edsel Magic
Ellsworth might seem like a dedicated enthusiast with a long, deep attachment to the Edsel, but his historical connection is tenuous at best. In 1974, when he was about 11, he read a Scholastic Books publication called the "Auto Album," which had illustrations of several cars.
"My favorite one was a 1960 Edsel," he recalls. "When I saw that car under a tree in 1989, it was the first 1960 Edsel I had actually seen, and I said, "Hey, I remember you.' " That was the car Ellsworth bought.
However, he was not swept away in a wave of nostalgia by the two-tone Edsel — seafoam green with a polar white roof. He already owned a 1965 Chevrolet Impala he planned to restore. "I was looking for a car I could work on and potentially screw up as a learning tool," he admits.
Working on cyber Edsels and the real thing have pushed the Chevy into the background. "It's starting to consume my whole life," he says. "Now I may have to sell the Impala to get parts for the Edsel," he says.
What is it about Edsels that appeal to people like him?
"I don't know," he says, fumbling for an explanation. "I guess I feel like I'm trying to help the underdog. I call it Ford's worst automobile accident, but deep down, it's not a bad car."
Reported by Rick Popely for cars.com
<!- IMG SRC="/images/pixel.gif" WIDTH=25 HEIGHT=1 BORDER=0 ->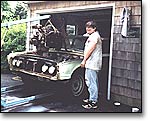 IS IT EDSEL?
A spotter's guide to Edsel cars.

EDSEL CONTACTS
Online links and offline contacts for Edsel information, parts or service.

THE EDSEL TIMELINE
See a list of important dates in the history of Ford Motor Co. and Edsel cars.




TIM'S EDSEL EMPORIUM
Get more information about Ford's short-lived car.

EDSEL OWNERS' CLUB
Visit the home base for the Edsel Owners Club, catering to the Edsel enthusiast with links, photos and contacts.